Find An Instructor
Search for a line dance Instructor in your area
Click your state to start your search
Instructors in the U.S.A.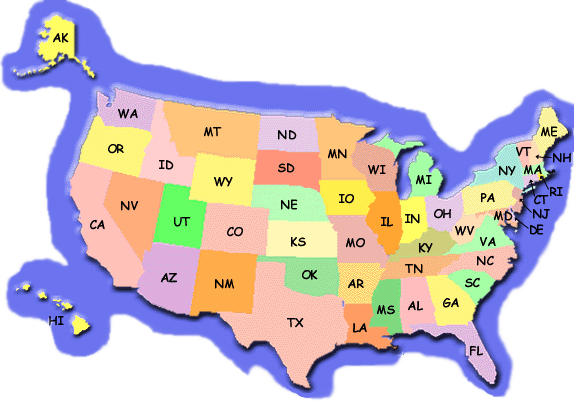 Instructor names in
RED

means they are instructors that also include

Beginners & Seniors

.
Classes are held at Senior Centers or Community Centers that are smoke free.
If you are an instructor from the U.S. or abroad and would like to participate in this web page, please contact us with information on the level you teach at, places, times, e-mail address and telephone number.
Alabama

Polly Black


Phenix City, AL
334-297-1030
Beginner/Intermediate
Line & Ballroom



Jenny Hornbuckle




Huntsville/Madison County Sr. Center


Huntsville, AL
(256) 880-7080
jennybug01@yahoo.com
Beg/Int and Adv Line




Jackie Tally




Smart Moves Program for Low Impact Seniors


Birmingham, AL
205-823-1659
JGTally@aol.com
Ultra Beginners / Low Impact

Angela Demerath


Montgom

ery, AL


334-354-7776
angela_demerath@yahoo.com
Beg/Int and Adv Line plus


International Square Dance Convention in Taipei, Taiwan

Sandra Crawford
Arab, Alabama
(256) 586-4002
rx1@otelco.net
Arab Recreation Center
Tuesdays 10am -12 noon
Arab Senior Center
Mon & Fri 8:30am -9:30am
Liz Rance


Gillespie Senior Center


Prattville, AL 36067-3931
334-285-6184
fanciedancer@walmartconnect.com
Seniors All Levels

Wanda Fulton


205-477-7882
Pelham Senior Center Line Dance Tuesday 1PM – 3PM
Starter – Beginner Level Mc Calla, AL

Adancr@AOL.com
Also teach Country Western  couples

Cindy Catron


Guntersville Recreation Center
Boaz Senior Center
Guntersville, AL
256-505-0372
cincat1@charter.net
Seniors All Levels
Beverly Strong


Hoover, AL


bevstrong49@gmail.com

Hoover Senior Center – Intermediate / Adv
Homewood Senior Center / Beginner


Alaska





Arizona

Fran Dewar


Tempe, AZ – Event Director
Email: elysiumddc@earthlink.net
480-491-5190
Low Impact Active Adults plus
All levels of line dance

Director of Arizona Dancing For The Dream Seminar in Mesa, AZ



Kort Kurdi


Phoenix Metro Area, AZ
602-679-0952
ucanlinedance@cox.net
www.ucanlinedance.com
Beginner, Intermediate Advanced & Seniors

Bonnie Moreno


Tuscon, AZ
520-623-2999
Beginner, Intermediate Advanced & Seniors

Annette "Netty" Mesa


Tuscon, AZ – Event Director
Dancin' in the Desert 2004
February 20 & 21, 2004
Website:

NettysLineDancing.com


DancinNetty@aol.com
520-578-0100
Int/Advanced & Seniors

Jan Waters


Casa Grande, AZ
watersjan@gmail.com
520-483-6052

Juniper Ridge Resort

Tuesdays & Thursdays

& Fridays

Intermediate 9 AM

Beginner/Easy Intermediate 10 AM

Absolute Beginner 11 AM


Sundance RV Resort
CASA GRANDE, AZ
Tuesdays & Thursdays
Mid October thru March
Absolute Beginners 12:30pm-1:30pm

Beginners 1:30pm-2:30pm
Easy Intermediate 2:30pm-3:30pm

Sandi Derr


brandiderr@mac.com
Prescott, AZ


928-717-9771


Prescott Adult Center
Thursday 10am – Beginner

Kevin Staley




Phoenix Area


Mesa, AZ
KStaley2@aol.com
480-832-4232
Arizona Line Dance
Beg/Int & Advanced

Joanne Vancore


Prescott, AZ
Prescott Live C/W Club
DancerJV@aol.com
928-778+0937
Beginner & Intermediate Line

Cynthia Jones


Mesa, AZ
480-491-5190
Retirement Communities in Mesa
comedance@azbodydance.com
Beg, Int, Advanced  

Jan Cox


Apache Junction, AZ
Pueblow RV Resort
jaftermath@aol.com
480-983-2570
Beg/Int Seniors
Deanna M. Berthiaume
Tucson, Arizona
520-326-5179
Liondancin@juno.com
Beg / Int / Adv Seniors

Arkansas

Gwen Walker & David Forbes
Rogers, AR
479-790-2548
gkw@cox.net

Tuesday 6:30pm – 8pm
St. Andrew's Church

Saturday in Jane, MO
Line Dancing 7pm – 8pm
9:15pm Waltz or Two Step

Beginner / Improver / Intermediate Line



California

Ruth & Mike Baratta


Castro Valley, CA
rbaratta@shaklee.com
510-780-5968
Intermediate

Richard Carpino


Lodi, CA
rcarp618@southcom.net
209-334-9510
Beginner/Intermediate

Marilyn Nelson Clark




Doelger Community Center (Daly City)


San Francisco, CA
marilyn533@aol.com
415-753-5958
Beg / Int & Advanced


Henry Costa




Thursday

Fremont Adult School

& Continuing Education

6:45pm-7:30pm

Beg

7:30pm-8:30pm

Int

KC Douglas


Anaheim, CA
KC@kcdouglas.com
714-630-1247
Beginner and Easy Intermediate
Active Adults / Seniors
www.kcdouglas.com

KC Krew – kc-krew.org

Patti Nix


Hesperia, CA


pattinix1001@yahoo.com
760-963-2905

Tuesday – Hesperia Senior Center
9:30am – 11am

Beginners
Thursday – Formost Senior Center
in Hesperia, CA

5:30pm – 7pm
Fridays – Leisure League Center
in Hesperia, CA 12:30pm – 2pm


Cheryle Spangler


Nevada City, CA
Cherylekinslow@yahoo.com
530-478-0755

At Love Building in Condon Park
Easy Beginner:  9am to 9:45am
Beginner Class:  9:50am to 10:35am
Intermediate:  10:40am to 11:25am


Cindy Donaldson
949 614-3529
Dance  For Life

Mondays 7pm
Club Salsa Dance Studio
Beginners / Intermediate
Capistrano Beach, CA

Pete & Wanda McCracken
Porterville, CA
CWSDanceCenter@oscnet.net
559-784-2341
Beg/Intermediate Couples



Ken Matlock & Catherine Olvera Davis


The Ballroom of Sacramento
Sacramento , CA
clolvera@ucdavis.edu
530/758/3244
Beginner/Intermediate Couples



Stan & Janice Newman


Yucca Valley, CA
stanandjansdjs@cs.com
760-369-1334
Beginner



Billie Jean Darling


Person Senior Wing
Finley Community Center
Santa Rosa, CA 95403


Mon * Wed * Fri
9:30am-10:30am

Easy to Moderate

Monday/Thursday
2pm – 3pm
Practice for Beginners

Joan Price


Sebastopol, CA
2 Different Venues
joan@joanprice.com
1-888-BFITTER (in USA)
www.joanprice.com
Seniors along with
Beg & Int Linedance
Connie Frey


Hemet, California




951-852-6459


1939connie@gmail.com

MONDAY in Hemet, CA
Devonshire Downs MHP Clubhouse
3:30pm – 5:30pm Easy Intermediate
6pm – 7:30pm Basic Beginning

TUESDAY Same Venue
3pm – 5pm Intermediate Line

WEDNESDAY Same Venue
10am – 12:30pm Beginning / High Beginner

FRIDAY Wheatfield Park
Menifee, CA
11am – 12:30pm Beginner Basic
1pm – 3:30pm

Intermediate and higher

_____________________________
Mike Slither
Sunnyvale, CA
msliter@bjt.net
408-732-4530
Beginner, Intermediate, Advanced

Cindy Newman


530-917-5765
Anderson, CA
rella7in@aol.com

Frontier Senior Center – Tuesdays
Noon – Intermediate / Advanced
1pm Basic Beginner
2pm Improver or High Beginner

Anderson Community Center Wednesday's
6pm Basic Beginner
7pm-9pm Intermediate

Frontier Senior Center – Thursday's
Noon Intermediate / Advanced
1pm – High Beginner
2pm – Intermediate

Sandy Gardetto




Roseville, CA


916-783-8664
sgardetto@hotmail.com

Wed: Lincoln Hills in Sun City, CA
8am Beginners / 9am High Beginner

Tuesday Roseville, CA
2:30pm Beginners
3:45pm Intermediate
Thu: Roseville, CA
4:30pm-5pm Beginners/Intermediate

Marlene Taylor


Wildomar, CA
dancewithmar@earthlink.net
909-674-3663
Beginner, Intermediate & Advanced Line & Couples

 

 

Levi J. Hubbard


El Cajon, CA
Mulvaneys Country Club – Santee, CA
Sdlinedancer2004@yahoo.com
1-619-309-5330
Beginner/Intermediate

Patty Miller & Judy Zwerling




Louden Nelson Center


Santa Cruz, CA
831-420-6177
Beginner & Intermediate Seniors

Mel Branham


Anaheim, CA –

Orange County Area


714-286-2544
dancedancedance@socal.rr.com
www.dancingmel.com
28 Classes a week
Beginner & Seniors

Pat & Sherri Fay


Davis, CA


Fays Two C/W Dance Instruction


530-756-1235
faystwo@sbcglobal.net
Couples, Beg & Int Line
Seniors Beg/Int Line


Lois Daggs


San Jacinto, CA
whitedove@linkline.com
Beginner & Intermediate

Mike Brennan


Torrance, CA


Torrance Unified Adult School – Friday 6:30pm


sketchbox@earthlink.net
310-324-5132
Beginner/Intermediate


Aimee Haire


Albany, CA
linedancing4life@yahoo.com

Albany CA Adult School
Tuesday 7pm – 8:30pm
High Beginner

Thursday 7pm – 8:30pm
Absolute Beginners

No Drop In's / Walk In's
Must Register for this class


Connie Silva


Newark & Castro Valley, CA
Chabot College – Haywood – Tues & Thurs


H.A.R.D. Kenneth Aitken Comm. & Senior Center, Castro Valley – Wed & Fri




Swiss Park, Newark – Wed Evenings


510-783-1974
conlon56@attbi.com
Beginner to Adv & Seniors

Maxine Miller




South Lake Tahoe, CA


Maxine's Dance Studio
Tues – 6pm-8pm Beginner / Easy Intermediate
Thur – 6pm-8pm Intermediate
maxine@netsierra.com
530-544-0206
Alice Marez


Alice4CW@aol.com


510-727-0593 or 510-750-8121
Mastick Senior Center
Beginner/Intermediate classes
NEW – Physical fitness through line dance. Beginner/Intermediate Hayward Area Recreation Dept. Senior Center, Hayward, CA

Dinner/Dances held Quarterly
(The Neil and Alice Show)
with Choreographer/DJ Neil Hale


Linda Sande
linda.sande@verizon.net
Joshua Tree, CA.
760-285-1897

Mondays 7pm – 8:30pm 
Brilliant Dance Studio
Monterey Business Center
Third Building – Suite G
58967 Business Center Drive
Yucca Valley, CA
Level: Beginner + / Intermediate
760-369-3399

Tuesdays 6:30pm – 8:30pm
Joshua City Community Center Elliott Hall
6171 Sunburst Avenue
Joshua Tree, CA
Level: Intermediate
760-366-8415

Wednesdays 5pm – 6pm
Landers Moose Lodge #1788
58266 Reche Road
Landers, CA 92285
Level: Beginner
760+364-3323

Thursdays 1pm – 3pm
Yucca Valley Community Center
Yucca Valley, CA
Beginner Line Dance
Level: Beginner
760+369-7211

Thursdays 6pm-7pm
Star Twirlers Square Dance Club
Yucca Valley Elks Lodge #2314
Level: Line Dance Basics / Beginners
760-366-8626

Cindy Gardner
Benicia California
cgardner@pocketmail.com
415-472-0226

Int Level Line Dance Class
Tuesday Night, 7-9 PM.
Cost is $7.00

_________________________

Shari Koch
Lake County, CA
www.lakedancing.com
lakedancer@mchsi.com

Monday @ Lucerne Senior Center
10am-11:30 am     Beginners   

Lakeport Senior Center
6:30pm-8pm
Beginner / Intermediate

Tuesday @ Lakeport Senior Center
10am-11:30am- Beginner/Intermediate
1pm-2:15pm Intermediate

Wednesday @ Sutter Lakeside
Wellness Center

10am-11:15am
Beginner / Intermediate

Thursday @ Lakeport Senior Center
10am-11:30am with Beginners

Norman & Phyllis Gifford




Tuesdays with Phyllis

Rancho Cordova Senior Center

3480 Routier Rd

Rancho Cordova, CA

(916) 366-3133 Intro. -> Beginner

2pm-3pm

Beginner -> Improver

3:05pm-4:05pm

Thursdays with Norm & Phyllis

Fair Oaks Park District

7997 California Ave

Fair Oaks, CA

(916) 966-1036 Improver

3pm-4:30pm

Intro -> Beginner

5:15pm-6:25pm

Improver -> Intermediate

6:30pm-7:30pm

Fridays with Norm & Phyllis

Rusch Park

780 Auburn Blvd.

Citrus Heights, CA

Intro. -> Beginner

12:30-1:30

Beginner -> Improver

1:00-2:00

Improver -> Intermediate

1:30-2:30

Rita Hernandez
Hemet, California
951-652-5941
andyritah@yahoo.com

TUESDAY
9:30 AM – NOON
Valley Wide
901 W Esplanade
San Jacinto, CA
Beginner/Intermediate

WEDNESDAY
5:30pm – 7:30pm
Ponderosa
27126 Shadel Rd
Sun City, CA
Beginner/Intermediate


Tuesday

12:30pm

Advanced Beginner

Ellie Halterman

Hemet, CA (951)652-1535


Monday 1pm-3pm
Foothills of Hemet MHP
All levels line dance

Tuesday 6pm-8pm
Valley Wide Rec. Center
San Jacinto – Level Intermediate
Wednesday 1pm-3pm
Mountain View MHP Hemet
All levels line dance


Thursday 7pm-8:30pm
Valley Wide Rec Center
San Jacinto – Level Beginners
Friday 11am-3pm
Valle Vista Rec Center Hemet
11am-12:30am- Beginners
1pm – 3pm – High Beginners
Saturday 1pm-3pm
Valle Vista Rec Center
Hemet – Level Intermediate

Henry Costa
Fremont Adult School
http://register.face.edu

Thursday 6:45pm-7:30pm
Beginner Line Dance

Thursday 7:30pm-8:30pm
Intermediate Line Dance

Colorado

Jo Thompson
Highlands Ranch, CO
www.jothompson.com
303-791-5717
Intermediate & Advanced
Line Dance and Couples

Maggie Green
Loveland, CO
silverdragon@gbis.com
970-461-1040
Beg/Int Jr. & Sr. – Line
Beginner – Couples
Joyce Carder
Fort Collins, CO
Tues 2pm – 3pm Ft Collins Senior Center


Fri 1pm – 2pm Chilson Senior Center in Loveland, CO


ldcarder@aol.com
Beginner Level for Seniors

Evelyn Haling
Canon City, CO
Pueblo Senior Center


American Legion


Evyhaling@amigo.net
Seniors all levels
Blanche Adams
Bncadams@aol.com
970-225-1820
Ft Collins and Loveland
**********************
Senior Center in Ft Collins
Monday 1pm – 2pm Adv Beginner
2pm – 3pm Intermediate
**********************
Tues @ Ft Collins Senior Center
2pm – 3pm Beginners
**********************
Chilson Senior Center Loveland
Friday 10:30am – Noon
Intermediate and higher

Sheri Ricker


sricker15@comcast.net


(970) 674-0875

Tues 9am -10:30am
Windsor, CO Recreation Center
Intermediate/Advanced Line


V. Elaine Lewis




Lewisve@aol.com


(970) 686-5948

Thur 9am – 10am
Windsor Recreation Center
Windsor, CO

Mike Conklin & Jan Kwit-Conklin


WGoldEnt@aol.com
303-918-2276

City of Englewood Recreation Center
Country Western Couples Dancing Beginners, Intermediate & Advanced Ages Wednesday evening 7:30pm-8:30pm

Malley Senior Center * Englewood, CO
Line Dancing Thursdays Beginner Intermediate 1:30pm-2:30pm * Absolute Beginner 3pm-4pm

Aurora Senior Center – Aurora CO
Line Dancing Wednesdays
Absolute Beginner Level 1  11am-12pm
Beginner Level II  12:30pm-1:30pm
Beginner Intermediate 1:30pm-3pm

Clements Community Center * Lakewood CO
Tuesdays * Beginner 2:15pm-3:15pm Beginner, Intermediate 3:15pm-4:45pm


Betty L Moses
dorbmoses@msn.com
719-385-7900
Colorado Springs, CO
**********************
Hillside Community Center
Tues 8:30 – 9:30

Beginners


9:30 – 10:30

Intermediate


Wed 6pm – 7pm Beg/Low Int


Peggy & Roger Buterbaugh
rogpegb@msn.com
303-663-6797

P-R Dance School
Castle Rock, CO
Beginner/Intermediate/Advanced

Connecticut

Paula Frohn


Thomaston, CT
jusgotta@megahits.com
860-283-5167
Beg, Int & Adv


Millie Gagne


Windsor Locks, CT
DncCountry1@aol.com
Sunday – K of C Hall 6pm – 10pm
Lesson @ 6:30pm One Line / One Couples


Monday

– VFW Hall 6:30pm – 9:30pm
Lesson @ 6:30pm One Line / One Couples
www.DncCountry1.freeservers.com
Beg /Intermediate/Advanced
Line and Couples


Christine Haddock


Plainville, CT
cd@celebrationsunlimited.net
860-793-0642 or
860-793-9800
Beginner, Intermediate and Advanced Line Dance
Active Adults and Seniors


Frank Ricci


Groton, CT
FTRicci@aol.com
860-445-2289
Intermediate/Advanced


Bettie-Jeanne Rivard-Darby


860-872-7435
DreamView@aol.com
Monday – Ellington, CT (call ahead)
Tues – Court House Plus Fitness & Wellness Center in Vernon, CT


Novice 12-1:30pm / Intermediate 1:30pm-3pm


Thurs – Court House Plus Fitness & Wellness Center in Vernon, CT


Aerobic Line Dance Class with Non-Stop Music Format 12:30pm-2pm / Membership Required


Phone: 860-649-0597

Lynne Flanders


Waterbury, CT
(203)756-0466
lynnes-lines@juno.com
Beginners / Intermediate

Monday 10am-11am
Plainville Senior Center (860)747-5728
************************
Monday 1:30pm-2:30pm
Southbury Senior Center  (203)262-0651
************************
Monday 7pm-9pm
Southington Parks & Rec. (860)276-6219
************************
Tuesday 10:30am -11:30am
Newtown Senior Center
************************
Tuesday 1:15pm-2:15pm
Bethel Senior Center (203)792-3048
************************
Tuesday 7pm-9pm
Watertown Park & Rec. (860)945-5246
************************
Wednesday 9am-11am
Wallingford Senior Center (203)265-7753
************************
Wednesday 1:30pm-2:30pm
Brookfield Senior Center (203)775-5308
************************
Wednesday 7pm
Crystal's Nightclub, Bristol, CT
************************
Thursday 10am-11am
Berlin Senior Center (860)828-7006
************************
Thursday 1:30pm-2:30pm
Oxford Senior Center
Phone (203)888-2543 x3023
************************
Thursday 7:30pm-9pm
Illusions Dance Club
& Restaurant, Wolcott , CT
************************
Friday 11:30am-12:30pm
Danbury Senior Center (203)797-4686
************************
Friday 2pm-3pm
Founder's Hall, Ridgefield
Senior Center (203)431-7000

Delaware

Joanne Brady
joebrady5@hotmail.com
302-239-5914
Hockessin, DE
Tues -7pm – 10pm @the Brandywine Hundred
Fire Hall – Wilmington, DE
*******************
Mid County Senior Center
Wilmington, DE
National Guard Headquarters Building
Tues 11am – Noon $2
302-995-6728 Venue #
******************


PAL Adult Activity Center

–

Wednesday's


Basic Beginner Classes 6pm-7pm
High Beginners 7pm-8pm
Intermediate Classes 8pm-9pm

Jennifer Conover
Camden, DE
jennifer_conover@hotmail.com
http://www.geocities.com/jennifer_
conover2005/
410-778-9936
Beginner & Intermediate Line

Sandy Snyder




Georgetown, DE


Thur 10 – 11:30am @
Cheers Community Center
302-945-3520
sandra.snyder@mchsi.com
Absolute Starters & Beginners


Elizabeth Dively




Lewes, DE


Capehenlopen Senior Center in Rehoboth, DE
302-645-2564
bjdively@msn.com
Starters – Beginners – Int

Suzanne Mills


Milford, DE
Milford Senior Center
Monday & Thursday
7pm – 8:30pm Beg to Intermediate
302-422-6207
vestaann4999@aol.com

Florida

Nancy Delaney

 


Ft Myers Beach, FL
wdelaney95@comcast.net
239-464-5396

Ft Myers – Beginner to Improver
Naples – Intermediate Line Dance

Louise Root

 
Bonita Springs, FL
lmroot45@comcast.net
239-841-1340

Monday – 10am / 11:30am
Bonita Springs Recreation Center
High Beginner to Intermediate

Dottie Wicks


Riverside Comm. Center
Palm Beach Gardens, FL
Tuesday & Thursday
Boop77@bellsouth.net
Beg & Int and Seniors


Sue Boyd


Tallahassee, FL
850-224-4894
Beginner & Intermediate Line and Couples


Jeanne Esposito-Sica


Cape Coral, FL
941-242-2663
Beginner &Intermediate
Seniors

 

 

 

 



Al Dobbins
Leesburg, FL
adobbins99@aol.com
352-323-0950
Beginner, Intermediate, Adv Line , Couples, Partners

"Ms. Linda" De Ford


Desperados in Mount Dora, FL


Tavares, FL
TNJudge@aol.com
352-343-2194
Beg, Int & Adv Line / Couples

 


Private Lessons Available
Ann Marie Deroma

 


Triangle Park
Wed/Fri 10am-11:45am
Englewood, FL
anDance@webtv.net
941-475-4934
Beginner & Advanced Line

Linda Dotson

 


Big Pine Key, FL
dancinglin@aol.com
305-872-3485
Beginner, Advanced & Seniors
Iris M. Mooney
Marco Island, FL
Zladyiris@wmconnect.com
239-642-7341
Mackle Park on Marco Island
Tues: Beginners 9:30am – 10am
Tues Advanced Beg/intermediate
10:45 – 11:45 AM
Wed: East Naples Com Center
East Naples, FL
Beg/Advanced Beg. 10am – 11am
From November / May



Marilyn McNeal


Ocala, FL
BoarsNestFarm@aol.com
352-804-1546

Prestige 55 for Seniors.

All levels of line dance –

6 classes weekly
Website: Rhythm-in-my-soles.com




Barbara Fletcher/Bill Beckett




Largo, Florida




Largo Community Center


Monday & Thursday
1-2 pm Intermediate
2-3 pm Beginner
Phone 727 391-7458
lindancer@webtv.net



 

 

 

 

Daniel Fournier

(Mr Dan)


Port St Lucie, FL
dfbffour@aol.com
561-336-1392
Beginner & Intermediate

 

Glenda Ortiz Harney


Melbourne, FL
godanceinc@cfl.rr.com
321-253-1564
County Line Saloon & Dance Hall
High Beg / Int & Adv Line
Morning @ Greater Palm Bay Senior Center

    

June Lewis


New Smrna Beach, FL
junescountrydanceclubs
@itilink.com
904-423-8336
Beg / Int & Adv Line



Tom Knight


New Port Richey, FL
t.ktknight@verizon.net
Beginner & Intermediate

 

Bill McGee


Orlando, FL
bill_mcgee@prodigy.net
407-422-7248
Beginner & Intermediate

Paula Messier


Tampa, FL
tmessier01@hotmail.com
813-968-1575
Beginner & Intermediate
Line & Couples


Pauline Oliphant


Sebring, FL
wpoliph@htn.net
863-655-2398
Beginner & Intermediate
Line & Couples

 

 

Cindy Healy
c.rose.fl@comcast.net


(954) 224-7741
Cooper City, FL

Cooper City Recreation
Thursday 6:30-7:30pm
Beginner to Intermediate

Sal Sinatra


Jacksonville, FL
ssinatra@fdn.com
904-223-0011
Beginner & Intermediate
Couples & Partners


John & Phyllis Whipple


352-368-9058
Ocala/Tampa, FL
phylliscannon@cox.net
Beginner, Intermediate & Advanced Line & Couples

 

Lynn & Bob Yost


Orlando, FL
lynnyost@juno.com
407-363-1470
Beginner & Intermediate

 

Al Zettek


Margate, FL
alpegdance@aol.com
954-972-0978
Beg/ Int & Advanced

Sandra Double


Sanibel Island & Ft Meyers, FL
Sanibel Senior Center


Wednesday 1pm


*********************


Tropicana Mobile Manor Clubhouse


Tues. 1pm – Ft. Meyers
********************


Brookshire Lakes Clubhouse


Thurs. 2:30pm – Ft. Meyers
********************


VFW Post 10097 – Ft Meyers


Sun & Wed 7pm-9pm
Gulfdancer@worldnet.att.net
1-239-433-3301
Ultra Beginners to Int/Adv Beg.

Mary Ann Young


Clearwater, FL
flalinedancer@aol.com
Morningside Recreation
Mon. 6:30-8:30pm – Intermediate
Clearwater Beach Recreation
Wed. 6:00-7:00pm – Beginner
Wed. 7:00-8:30pm – Intermediate
Long Center
Mon & Wed 1pm-2pm – Easy Int

Marsha Dickenson


Naples, FL
movin_country@yahoo.com

Wednesday @ Fleischmann Park
Naples, FL  239-213-3020
10:30am – 12:30pm
High Beginners – Low Intermediate

Thursday –

E Naples Community Center
E Naples FL  239-793-4414

10:30am – 12:30pm
High Beginners – Low Intermediate
12:30pm – 1:30pm  Basic Beginners

June thru September @ Fleischmann Park
Naples, FL  239-213-3020
Thursday's – 1pm – 3pm
High Beginner – Low Intermediate

Glenda Marshall
Ocoee, FL
gmarshall@cfl.rr.com
Tues: Marks St. Center
10am – 11:30am / Orlando



Wed: Ocoee Community Center


9am – 10:30am Beginner & Intermediate
Thur – 6pm – 9pm @ same center

Sheila DiNardo
Bronco Bill's
New Port Richy, FL
JustCountryDncr@aol.com
727-848-7683
Beginners & Intermediate
Line & Couples Wed-Thur-Sat

Doug Westerlund
Buck Wild Night Club
Wed, Thu, Fri & Sat 7pm – 9pm
Lakeland, FL
dougw252@aol.com
863-859-3263
Beg – Int – Adv Line & Couples

Chris Page




Lehigh Acres Senior Center


Ft Meyers, FL
PageCN@aol.com
239-466-3182
Beg/Intermediate Seniors


Paula Baker




Panama City Beach Senior & Comm Center


Panama Beach, FL
PunkyNCoco@aol.com
850-230-2579
Easy Int & Intermediate Line
Carolyn Laporte
Sebastian, FL
American Legion Senior Center
CarolynLapor8445@aol.com
772-589-8445
Seniors – All Levels Line Dance

Darlene Miller
Ocala, FL


352-401-1338


Thursdays 1pm – 4pm
Ocala Health SWCC
9850 SW 84th Court

Cheryl Peahota


Fpeahota@Tampabay.rr.com
863-294-1011
Winter Haven, FL
Four Lakes Golf Resort
Mon / Thur @ 10am Beginners

Sylvia Schell
Indialantic, FL
sylviadance@msn.com
321-777-3649
Beginner & Intermediate
8 Classes a week.

Dottie Needham


Barefoot Bay Community Center
Barefoot Bay, Florida
772-228-3059
dancndot@cfl.rr.com
Beginners/Intermediate Linedance

Sandra Balestracci


Beach Community Center
6pm – 8:30pm
Ft Lauderdale, Florida
954-564-1478
sbalestracci@bellsouth.net
Beginners/Intermediate Linedance

Georgia

Melvin Bailey




Henry County Rec Dept


McDonough, GA
MBailey571@yahoo.com
770-954-0470
Beg, Int & Adv Line

++++++++++++++++++

Douglas Hardy
Columbus, GA
770-327-1058
DHardy@mchsi.com
Beginner, Intermediate & Advanced Couples

Michael Clark


Columbus, GA
706-563-0456
Beginner, Intermediate & Advanced

++++++++++++++++++

Joan Henderson
Decatur, GA
All Saints Catholic Church
First Baptist Church Atlanta
404-289-4506
Seniors all levels

Caroline Talbot
Valdosta, GA
talbot483@gmail.com
(229)455-2267

Rock-N-Rodeo
1st & 3rd Friday of each month
7pm – 9:30pm Beginner Line

Valdosa Senior Center
Monday & Tuesday
1:15pm – 2:45pm Beginner Line Dance

Wednesday 1:30pm – 3pm
Intermediate Line Dance

Lakeland/Lanier County Recreation Bldg
In Lakeland Georgia
Thursday 7pm – 8:30pm Beginner Line

Cathy Sumner
706-631-4333
LCHS1949@comcast.net
Augusta, GA

Wilson Center Family Y
Tues: Noon – 1pm Beginner
Thurs: Noon – 1pm Intermediate

Include Beginners/Intermediate/Seniors

Mae Jennings


Certified LDII
Bartow County Senior Center bootscooters@bellsouth.net Cartersville, GA
Phone # 770-382-6071
Beg / Intermediate / Adv Line

Rose Haven


Atlanta, GA
404-379-1213
rose@atlantalinedance.com

Wednesday Night
Wild Bill's Duluth
7pm – 9pm

Ronnie & Marcia McCart


Covington , GA
Marciamccart@aol.com
Monday – Advanced
Tuesday – Beginner
Thursday – Hipster Night Club

Cathy McDaniel


Atlanta, GA
404-742-1941
McDance5678@aol.com
Beginner, Intermediate

Beverly Mcleod


Columbus, GA
706-322-8156
Beverly@knology.net
www.cimarrondanceclub.org
Beg/ Int & Adv Line

 

June Shuman


Douglasville, GA
jsh4155935@aol.com
770-942-5356
Beginner, Int & Advanced



Bill Jones




Thurs – Methodist Church 2:45pm – 3:45


Blairsville, GA
pasolady5@alltell.net
706-835-1615
Low Impact, Beginners, Seniors

Judy Hair


Blairsville, GA
706-379-1229
judherb@windstream.net

Blairsville Senior Center
Tuesdays 9am Beginners
Intermediate 10:15am

Blairsville Curves
Wednesday 10:30am Beginners
11am – Noon Intermediate

Jane Carter

Atlanta, GA
770-938-0661  Ext 121

Embry Hills United Methodist Church
Mondays & Tuesdays
4:45pm – 7:00pm
www.embryhillsumc.org




Wanda Bishop


Columbus, GA
Northside Recreation Center – Sundays
2pm – 4pm Linedance – Int / Adv
4pm – 5pm Couples / Beginners
5pm – 6pm Couples / Int / Adv

Tuesday after Aug 10th
7pm – 8pm Linedance – Beginners
706-561-5361
wbishop27@mchsi.com
www.cimarrondanceclub.org

Callaway Gardens – Pine Mountain
www.callawaygardens.com
During the summer we teach Beginner Line Dancers at Callaway Gardens at the Beach Pavilion on Tues nights from 8 pm – 10 pm.

Lois Roberts
Rome, GA
proberts69@comcast.net
706-235-2885

Mondays 10AM – 12PM
Brett Wilson Room
(Anthony Recreation Center)
2901 Garden Lakes Blvd.

Wednesday 10AM – 12PM
Brett Wilson Room
(Anthony Recreation Center)
2901 Garden Lakes Blvd.

Friday 10:30AM – 12PM
(Beginner)
Etowah Senior Center
1325 Kinston Road

Beginners / Intermediater / Seniors

Elizabeth Williams
Roswell, GA
770-522-8611
MEJTH@bellsouth.net
Alpharetta Parks & Recreation Center
Wednesday 10am – 11am

Mary Parker


Brunswick, GA 31525
Contact: 912-264-2334
mptootie@att.net

Mondays
College Place United Methodist Church
3890 Altama Avenue
Brunswick, GA

Beginners 9:30am/10:30am
Intermediate 10:30am/11:30am

Tuesdays
Peppertree Crossing Clubhouse
Beginners 10am/11am
Intermediate 11am/Noon

Shirley Thompson
Perry, GA
478-98-9691
dancinfool@windstream.net

Monday: 1pm – 2pm
Houston Healthcare Senior Care Line Dancing
Rozar Community Center – Perry, GA
High Beginner / Intermediate
*****************************
Tuesday: 9:30am – 11am
Rozar Community Center – Perry, GA
Starters/High Beginners/All Ages *****************************
Thursday: 9:30am – 11am
Rozar Community Center – Perry, GA
Intermediate / Fast Paced /All Ages

Vicky Jones


LaFayette, GA
Summerville, GA
706 639-5401
VickyJDance@aol.com

Monday – Summerville
The Chattooga County Memorial Home
Beginners: 6:00pm – 7:15pm
High Beginners/Int  7:15pm – 8:30pm
Admission: Donations

Tuesday – LaFayette
The Ross Abney Complex
Beginners: 6:00pm – 7:15pm
High Beginners/Int 7:15 – 8:30pm
Admission: $2.00

Hawaii

Jeffrey R Callejo Jr


Kauai, HI

Kauai Bowl Lounge
Wednesday  7:30pm to 10:30pm
Beginning / Intermediate

tjrc@hawaii.rr.com
https://www.facebook.com/groups/kauaicwd/




Tommy Hanohano


Hilo, HI
808-959-5660
Beginner Classes Weekly
Intermediate & Advanced

Phyllis Johnson


Honolulu, HI
808-262-7441
Ultra Beginner Classes Weekly
Beg/Int & Seniors

Doris Kalal




Nashville Waikiki


Waikiki, HI
DorisKalal@msn.com
(808) 926-9974
Beginner to Adavanced and Seniors

Jean Porter


Kona, HI
jpofcc@mykonahawaii.net
808-328-9946
Beginner

Salome


Honolulu, HI
5 Nights different venues
salome@hawaii.rr.com
808-737-4596
Beginner & Intermediate Line
Couples 2-Step, Swing, etc.


Violet Sur


Honolulu, HI
sycsur@yahoo.com
808-988-6441
Beginner & Intermediate


Sandy Zook




Rainbow Linedancing Club


Honolulu, HI
Fun_Books@Hotmail.com
(808) 988-1818
Ultra Beginner to Adavanced
Andi Earls
Maui Paniolo Dance Association
Pukalani Community Center
7pm – 9:30pm
mauiskye@hotmail.com
www.maui.net/~mpda/
Beg & Int & Adv Line Dance

Bev Shiflett

Big Island of Hawaii
808-985-9115
volcanogal.hawaii@yahoo.com

Sunday 12pm-2pm
Mountain View Senior Center
Intermediate/Advance

Tuesday
Kea'au Senior Center
Beginners 1:45pm-2:45pm
Intermediate 2:45pm-3:45pm

Wednesdays
Kea'au Senior Center
High Intermediate 1:15pm-3:15pm

Fridays
Pahoa Senior Center
Beginning 12:30pm-1:30pm
Intermediate 1:30pm-2:30pm

Idaho

Lorenna Hammons
208-466-7989
Eagles Lodge – Nampa, ID
Beg & Int Line and Partner
hammons1@msn.com
Web Page: www.icwda.org
Steve Street
208-376-3303
Eagles Lodge – Nampa, ID
Beg & Int Line and Partner
ss2949@msn.com
Web Page: www.icwda.org

Bob & Pat Crossman


Post Falls, IN
dance@thecrossroadsid.com
The Crossroads
Beginner & Intermediate
Line, Couples & Partners

Illinois

Cindy Baker


East Moline, IL
BakerPaulE@JohnDeere.com
309-496-9685
Beg / Int & Advanced Line



Dee Dee Boyer


Decatur, IL
Boyerfarms@aol.com
Beg / Int & Advanced Line

Nancy DeMoss


CRIS Senior Center
Danville, IL
NDEMOSS
Beginner & Intermediate


Mary Love


North Aurora, IL
630-879-3925


Knights of Columbus – Oswego


US6767@aol.com
Line Dance all Levels



Mickey Finley


Swansea, IL
618-488-7927
Beginner, Intermediate & Advanced Line & Couples

John & Bonnie Newcomer


Willow Springs, IL
847-545-9584
Beg / Int Line & Couples
www.strictlycds.net


Barbara Nichols


Quincy, IL
cwdanc@prodigy.net
217-224-4628
Beg/ Intermediate & Advanced

Connie Peterson


Peoria, IL
Nsandia2003@wmconnect.com
309-686-1402
Beginner / Intermediate Line

Diana Randall


Bloomington, IL
dancin2@mtco.com
309-267-4308
Beginner & Intermediate

Eileen Schild


Hinsdale, IL
countrylinedance@yahoo.com
630-887-1686
Beg, Intermediate & Advance



Carol Schwartz


O'Fallon, IL
caroldnc@htc.net
SW Ill College PSOP Program
O'Fallon Senior Center
Our Ladey Of Snows Apt. Complex
Senior / Beg / Int / Adv Line
Arlene Bewley
Aledo, IL
mrsbillrdh@frontiernet.net
309-236-1691

Mercer County Family YMCA
Beginner / Intermediate Line Dance
and Couples


Jerrie Roe
Peoria, IL
309-673-6527
roejerrie@sbcglobal.net

Peoria Park District, 50+ program
Monday 9:30am-10:30am Beginners
Tuesday 9am-10am Beginners
Thursday 9am-10am Intermediate

Pekin Park District
Thursday 2pm-3:30pm Seniors



 

Jeanne Frank


847-231-5411
Tuesday 10:30 AM – 11:30 AM


Mundelein, IL

Senior Center
Newcomer (Little or no Experience)

Wednesday 10:30 AM – 11:30 AM
Lindenhurst, IL Park District
Newcomer Plus (About 1 Year Experience)

Friday 9:00 AM – 10:00 AM
Fremont Township Center
Mundelein, IL
Newcomer (Little or no experience)

Friday 10:15 AM – 11:15 AM
Fremont Township Center
Mundelein, IL
Novice (About 1 1/2 years experience)

Becky Ammons


Macon, IL
trueblueshoes@hotmail.com
Circle "A" DJ Service
217-764-3070

Monday
Knights of Columbus Decatur, IL
7pm-8pm Line Dance Lessons
Open Dance 8pm-9pm

Tuesday
Parish Hall Assumption, IL
7pm-8pm Line Dance Lessons
Open Dance 8pm-9pm

Thursday
American Legion Taylorville, IL
7pm-8pm Line Dance Lessons
Open Dance 8pm-9pm


Indiana

Dianna Busse


LaPorte, IN
219-393-3558
Intermediate Line




Rita Veit


Owensville, IN
Rita's Country Kickers
ret@sit-co.net


http://www.ritascountrykickers.com


Beginners / Int & Advanced
Line & Couples


Iowa

Carol Trimble


Desmoines, IA
515-278-2816
Beginner Couples & Line


Kansas

Bill & Sandy Vanpoole


Shawnee, KS
wvanpool1@kc.rr.com
913-631-3597
Beginner Couples & Line

Mary Lue Calkins
Wichita, KS – 316-943-4827
g-mlcalkins@sbcglobal.net 

Aley-Stanley Rec. Building
Tues: 6:30pm / 7:30pm Beginners
Tues: 7:45pm / 8:45pm Advanced
Orchard Recreational Center
Thurs: 6:30pm / 7:30pm Beginners
Thurs: 7:45pm / 8:45pm Advanced



Kentucky

Sedona Arnett


sarnett1206@gmail.com


Greenville, KY

CCCC Fitness Center
Central City, KY
Monday 5pm-7pm
Thursday 6pm-7pm

Felix Martin Hall
Greenville, KY
Tuesday 6pm-8pm

All Levels of Line Dance

Louisiana

Jim Courville
honkytonkstomper@yahoo.com
President Honky Tonk Stompers New Orleans, LA
(504) 452-1252

Westar – Monday – Saturday
Corps Of Engineers – Wednesday
Moulin Rouge – Thursday

Beginner , Intermediate
and Advanced Line Dance

Cozetta Baker




cozetta@centurytel.net


Springhill, LA

Senior Friends Senior Center
Monday / Wednesday / Friday

Beginners on Tuesday Afternoon



Dee LaFleur


joedeelafleur@suddenlink.net



Pryce/Miller Center – Lake Charles
Tuesday's at 9am

Enos/Derbonne Center – Lake Charles
Tuesday 10:30am
Thursday At 10am

Lake Charles Power Center
Wednesday at 11am

Maine




Ruth Anne Diphillipo


VFW Woodford Corner
Portland, ME
207-772-2599
lineDA7@msn.com
All Levels of Linedance


Tina & Irvin Foster


207-939-5309
tinamfoster@yahool.com
irvfoster@yahoo.com

Wednesday Night
The Gold Room
Portland, ME

Wednesday / Friday Morning
American Legion
Westbrook, ME

Friday Night
Knights Of Columbus

Beginner / Intermediate Line Dance
www.totallinedancers.com


Carol Thibeault


Mexico, ME
carolthi@midmaine.com
Beginner & Intermediate


Linda Watson


Silver Fox Country Line Dancers
Dresden, ME
Sfcdclub@yahoo.com
All levels of Linedance


Bunny Blanchard


Silver Fox Country Dance Club
Dresden, ME
207-633-5181
onefunbun@hotmail.com
All Levels of Linedance


Rachel Collora


rmcollora2003@yahoo.com
Harrington, ME
207-497-5785

Monday – 6pm-8pm
Milbridge Town Hall

Beginner & Intermediate

Maryland

Everything YOU need to know
about Dancing in Maryland.
Instructors – Workshops – Events

Dottie Cadden


Anne Arundel County, MD
Dottiesdancing@aol.com
Beginner, Intermediate & Advanced Line & Couples
Seniors are a Specialty



Sandy Garrish


Baltimore, MD
brandcntry@aol.com
410-723-5718
Beginner, Intermediate & Advanced Couples & Line

Fred Lord


Pasadena & Glen Burnie, MD
FLord@aol.com
410-437-8197
Beginner, Intermediate & Advanced Line & Couples


Ron & Patti Harris


Waldorf, MD
spurs@olg.com
301-843-9964
Beginner & Intermediate
Couples & Line


Roz & Nat Morgan


Cockeysville Volunteer
Fire Hall-Baltimore MD
Baltimore, MD
www.angelfire.com/nm2/cdexpress
410-486-1921
Beg/Int & Advanced Line Beginner Partner

Nancy Sullivan
singingsullivans@msn.com
410-788-1998

Monday
Liberty Senior Center 10am/11:30am
Catonsville Senior Center 1:30pm/3:30pm

Tuesday
Abutus Senior Center 10am/11:30am
Catonsville Senior Center 1:30pm/3:30pm

Wednesday
Catonsville Senior Center 10am/11:30am
Pascal Senior Center 1:45pm/3:30pm

Thursday
Augsburg Retirement Village
Independent Residents 10am/11:30am
Chair Dancing 1pm/2pm

Friday
Catonsville Senior Center 10am/11:30am
Beginners & Intermediate 1:30pm/3:30pm

Monthly Dances on Sundays from September thru March 1pm / 4pm




Linda & Bill Henry


Hagerstown, MD
Teach at C/W Dance Clubs and Senior Centers in Martinsburg, Greencastle and Waynesboro
Stepnctry@aol.com
301-797-6786
All Levels of Linedancing
Partner & Couple Dancing

Jo Anne Mann


Bel Air, MD
Edgewood Senior Center
McFaul Center
Community Center
JoAnnJMDance@worldnet.att.net
410-515-1810
Beg, Int & Seniors

Herb & Mary Ellen Saffield


Cancun Cantina
Baltimore, MD
maryellensaffield@rcn.com
410-761-1982
All Levels of Linedancing
Partner & Couple Dancing

Mo & Barbara Dutterer


Columbia, MD
410-997-4896
ssqq@comcast.net
Beginner, Intermediate, and
Advanced line and couples dances


Massachusetts

Lynn Connolly
K.O.C. Hall Enfield, CT / Wed 6:30pm
Joanna's Cafe Dances 1st & 3rd Sat
Somers, CT
Two4kix8@aol.com
Beg/Int/Adv Linedance

Susan Hitchcock-Gale


St Joseph Club


Fitchburg, MA
sthg@net1plus.com
978-827-5371
Beginner

David Sickles


The Cowboy Junction
Worcester , MA


size="2″ face="Verdana, Arial, Helvetica, sans-serif">Phone: 508-616-4429
e-mail: linerdave@msn.com
Beg/Int/Adv Linedance
and Senior Specialist

Todd Lescarbeau


Fraternal Order of Eagles
North Adams, MA
bcld@bcn.net
413-663-6458
Beginner, Intermediate & Advanced

John & Christine Ross


Melrose, MA




Melrose Highlands Church


linedanceinstructor@hotmail.com
781-665-1881


All Levels Of Linedance

Steve Streeter


Billy's

Peabody, MA


Moose Lodge, Salem, MA
dance@linedancecountry.com
www.linedancecountry.com
781-233-3513
Beg to Adv Line



Terry Schliker


Leicester, MA
Becker College
508-892-3275
webnewbie@hotmail.com
www.tmsdancer.com
Beginner Line Dance

Charlene Wiencek


North Adams, MA
cdudette@bcn.net
413-664-4335
Beginner, Intermediate &
Advanced Line & Partner

Cheryl Wendling


Lanesboro, MA
cwendl9475@aol.com
413-443-7128
Beginner, Intermediate & Advanced
Joe Steele & Trisha Sweeney


clubcountry@verizon.net


1-978-447-1517

Club Country
United Methodist Church
Tewksbury, MA

Mon: West Coast Swing 7pm – 9pm
Tuesday – Wednesday – Thursday
Beg to Adv dance lessons
www.clubcountry.net

Bob Grundy


Methuen & Haverhill, MA
Merrimack Senior Center, MA
Tues 6-8pm Methuen K of C
Wed 9:30-11am Merrimac Senior Center
Wed 7-10pm Haverhill Elks
dancingbob@hotmail.com
978-685-2488
Low Impact, Beg / Int Line

Forty Arroyo


Sturbridge, MA
Mon 1 – 2:30pmThe Fiskdale/Sturbridge
Senior Center – Starters, Beginners and up
Wed 4:30-6pm The Hayloft Barn
forty.arroyo@gmail.com
774-230-6198
Low Impact, Beg / Int Line

Wild Willy Western Dancers


Hudson, MA
bill@willy1.com
Wild Willy
Beginner/

Inter

mediate
Line and Partners
New for Seniors / Low Impact –
Tues: Hudson Senior Center – Hudson, MA
Thur: Briarwood Retirement Community, Worcester, MA

Debbie Small

 


Debdancin@aol.com
617 921-7624
Line dancing – All Levels
Knights of Columbus (dance)
Peabody, MA – Fridays 7pm-8pm
********************************************
Route 1 Racquet & Fitness
Center (class)
Saugus, MA – Wednesdays 6pm-7pm
Mary Dragon
Hudson, Northboro, Westboro, MA
mary.dragon@verizon.net

Hudson Senior Center
Monday 10-11am
Hudson Elks Lodge
Mondays 7pm-8pm

Northboro Senior Center
Tuesday 10am-11am

Marlboro Assabet High School After Dark
Tuesday 6pm-7pm Beginner
Intermediate 7pm-8pm

Doris J. Guerette


dotchas1@comcast.net
508-678-1134
Benjamin Church Manor
(Bristol, R.I. Senior Center)
Friday – 10am – 11am
Beginner to Intermediate

Somerset Senior Center
Thursday 1pm – 2pm
Beginner to Intermediate


Susan Dargan
Quincy, MA
781-340-1314
tomsusan.dargan@verizon.net

Kennedy Senior Center
Monday 10am – 11:30am

Viking Club
Wednesday 6:30pm – 9pm
Beginner to Intermediate

Lyn Richards


774-264-0736
lyn027430@aol.com

Oxford Terrace, Fairhaven
Monday 12:45pm – 3pm
Beginner / Intermediate Linedance

Dartmouth Senior Center
Friday 12:45pm – 3pm
Beginner / Intermediate Linedance

Arlene Verity
Kingston, MA
Phone: 781-563-2183
Email sdrtna@gmail.com

Monday
Kingston Senior Center
1:30pm-2:30pm

Rockland, MA
Adult Spring Series
7pm-8:30pm

Michigan

Helen Azelio


Senior Activity Center
Mon. 9am/Thurs 12:30pm
St Clair Shores, MI
Chesterfield Senior Center
Wed 1pm
Italian American Cultural Center
Tues 7pm
Macomb Comm. College
Seniors on Wed 10am
Beginners Thurs. Evening
313-526-9432
Seniors/Beg/Int/Adv Linedance



Kathy & Herb Dula


Clinton Township, MI
Danceduo@wideopenwest.com
http://Hookedoncountry.tripod.com
Beginner & Intermediate and
NOW Seniors




Stu & Lynn Hency


Waterford, MI C.A.I. – Monday Night (7-9:30)/ Huron School – Tuesday Night (6:30-10:00) / Waterford, MI Oaks Activity Center – Wednesday Night (6:30-8:00)


Waterford, MI
stu.lynn.hency@juno.com
810-772-3649
Beginner & Intermediate Line, Couples & Partners

Jan Gustafson


St Clair Shores, MI
810-772-3649
Beginner


Anne Grate


Holly, MI
248-634-4689
Beg / Int / Adv Linedance

Kathy Hinchman of CC Plus.
Clinton Twp, MI
ccplus@wowway.com
586-412-8454
Kathy – Just Seniors
Dawn – Beg & Intermediate

Tricia Wilkins


Grand River Brighton, MI
American Spirit Centre (V.F.W.)
Monday – Beginners Line & Couple
Tuesday – Advance Line
pcgtrish@ismi.net
Beg / Adv Line & Couples

Mary Jane Ormsby




Pleasant Ridge Elementary School


Saline, MI
ormsbys@provide.net
Beginner

& Intermediate

Jean Rowe
Novi, MI
Novi Civic Center • Friday
Novi Ice Arena • Monday
bettyboop@twmi.rr.com
248-348-9116
All levels of Line Dancing


Sandra Sharp


Midland, MI
sandra@journey.com
Sharp Country
Intermediate Couples & Line

Jackie Ortbals
Clawson, MI


Thursday Nights 7pm – 9pm


JackieO1701@sbcglobal.net
586-757-9415
Intermediate Line Dancing

Janet & Jon Vance


Indian River, Michigan


Sparetime Lounge


Tuesday 7:00pm – 9:00pm
Beg/Int/Adv Linedance

Toasty's Lounge
Wednesday 7:00pm – 8:30pm
Beg/Int/ Linedance
jon__jan@hotmail.com
www.angelfire.com/mi/birdees

Bob & Phyllis Manier


bobandphyllis@michigandancers.com


Belleville, MI


734-699-7833

Diamondback Saloon
Two Step / West Coast Swing,
East Coast Swing / Pattern Dances
and Line Dance – see our classes here:

248 676-9150
Livonia, MI

Milford Senior Center
Wednesday 9:30am – 11am
Beginner / Beginner Plus

Livonia Senior Center
Wednesday 6pm – 8pm
Beginner Plus

 

Michael Beck


Laingsburg, Michigan
517-490-7838
neon_dancer@yahoo.com

Mondays: 12:30pm – 2:30pm
Eaton Area Senior Center
Charlotte, Michigan
Low Impact Beginners Line Dance

Mondays: 6:30pm – 8:30pm
Holt/Mason Eagles
Mason, Michigan
Beginners Line Dance

Wednesday: 7pm – 9pm
Hot Spot Lounge (Inside The Capitol Bowl)
Owosso, Michigan
Beginner / Intermediate Line Dance

Minnesota

Peter Blaskowski & Beth Webb


Eagan, MN
peter@kickit.to
beth@kickit.to
651-687-0423
Beg, Int and Advanced

Dan Sahlstrom


St Paul, MN
Dan@DanSahlstrom.com
www.dansahlstrom.com
651-772-9953
Beginner


Owen Seeley


Mpls, MN
Owendancer@aol.com
763-878-2196
Advanced Couples



Jodi Wittman


Inver Grove Heights, MN
jodiw32@yahoo.com
651-552-1043
Beginner

Dodee Davis


Plymouth, MN
West Medicine Lake Community Club
Dancing 6:30 – 10 w/ Lesson at 7:30pm
Tuesdays & Thursdays
Wednesday Beg Lesson @ 7pm – Int @ 8pm
LNDANCER@aol.com
Beginner & Intermediate Line

Dariel Allen

darielallen@yahoo.com

612-849-2775

Tuesday – 952-707-4121
Burnsville Senior Center
200 W Burnsville Pkwy
12:30pm-2pm – Beginner
2pm-3:30pm – Advanced Beginner

Wednesday – 651-450-2469
IGH Senior Center

9:30am-10:30am – Beginner
10:30am-11:30am – Advance Beginner
11:30am-Noon – Intermediate/Advance

Thursday – Club Prior Senior Center
Prior Lake – 952-447-9820
10:30am-12pm – Beginner/Adv Beginner

Thursday – Savage American Legion

Mississippi

Sandra Plunkett


Pearl, MS
City Lights Dance Studio
Monday Nights 7pm – 9pm
splunkett@jam.rr.com
601-371-2278
Beginner to Advanced Line

Missouri

Karen Hedges


Belton Community Center- Belton – Mon Nights
Episcopal Church – Blue Springs, MO – Tues Nights
Delta Woods School Distric – Blue Springs – Wed
Beaumont Club – Kansas City, MO – Thur – Fri and Sat Nights
Vesper Hall – Blue Springs – Sunday Night
Khedges111@comcast.net
816-728-3750 Phone
816-524-7990 Fax
Beginner, Intermediate
and Advanced Line & Couples
Dancin Up A Storm




Lillian Hankins


Blue Springs, MO
Senior Center
lilhankins@juno.com
Seniors – Beg/Int Line

Don & Sharon Murray




Skateland


Monett, MO
bootkicker101@sbcglobal.net
417-732-8228
Beg/Int/Adv Line & Couples

Joyce Cheatham


Bollmsdale, MO
636-586-8223
Me & Bobby McGees
Friday 7:30pm – 11pm
ttandjc@nightowl.net

Beg/Int/Adv Line & Couples



Larry and Reda Foster
Willow Springs, MO
417-469-4754
Foster's Outback Club Dance
Tues 7pm – 8pm Linedance
Saturday Night Dances 8pm till
All Couples Dances Taught Sept / Mar
clogger@socket.net

Montana

Nebraska

Steve Lustgraaf


Gretna, NE
SLUSTGRAAF@aol.com
402-332-2851
Beginner/Intermediate


Al & Vicky Young


Bellevue, NE
5stardj@cox.net
402-733-2256
Beg/Int/Adv Couples
Line Dances, Swing & Cha Cha


Nevada

Frederic R. Alleva


Henderson, NV


Henderson Multigenerational Center


Tues & Thurs 10am – 12
fralleva@aol.com
702-269-0621
Beginner & Intermediate Line Dance for Seniors

Glenda (Trudy) Doering


Plattsmouth, NV
Rontu@altell.com
Intermediate


Maxine Miller




Carson City, NV


Mon – 1pm-2pm Carson City Senior Center
Mon – 7pm-9pm Dayton High School – Dayton
Wed – 7pm- 9pm Seeliger Elementary School
maxine@netsierra.com
530-544-0206

Linda P. Yanders


Lorna Kesterson Valley View
Recreation Center
Henderson, NV
LindaLatte@aol.com
702-454-1765
Beg /Int /Advanced




Teri Rogers


Pahrump, NV
775-764-0006
terirogers@hotmail.com

Tuesday & Thursday 11am-1pm
First Move Fitness Center

Tuesday 6pm-8pm
Artesia Community Center

All levels of line dance
Linedance performance team
available for special events

New Hampshire

Debbie Giamo


Peterborough, NH
Fredebgiamo@monad.net
603-563-8648
Beginner & Intermediate
Line & Partners

Sandy Phippard


Keene, NH
SPhippard@monad.net
603-352-8805
Beginner & Intermediate
Line & Partners

Tim & Pat Stanger




The Mill-A-Round Country Dance Center


Manchester, NH
Begin5678@aol.com
Beginner & Intermediate
Line & Couples

New Jersey

Mike & Ann Repko
Rambl'n Country Dancers
Deptford Skating Center
Westville, NJ
rcountry@home.com
856-627-3795
Beginner / Intermediate and
advanced Line and Couples
Don Dellett


Point Pleasant Elks


Neptune City, NJ
dbdellett@al.com
732-774-9289
Beginner & Intermediate


Good Timin' Rich & Angie


Milltown, NJ
Goodtimin@worldnet.att.net
Good Timin'
732-828-1976
Intermediate/Advanced
Couples & Line


Joann Lawrence




Elks Lodge


New Egypt, NJ
jlawre0671@aol.com
609-758-9250
Beginner & Intermediate


Harry & Linda Hayden


Berlin, NJ
856-753-7910
Beginner, Intermediate & Advanced Line, Couples & Partners


Bob & Marlene Peyre-Ferry


Westville, NJ
robert.peyre-ferry@baesystems.com
856-456-5143
Beginner & Intermediate Line & Partners


Michael Serben


Hamilton, NJ
mikes14602@aol.com
Beginner/Intermediate



William Schug


Verona, NJ
Boptyme@aol.com
Beginner & Intermediate

Susan Stone


Newton, NJ
973-579-3431
stompinsue@nac.net
Beginner & Intermediate



Patricia Thompson


Toms River, NJ
Dancincountry@aol.com
Beginner & Advanced
 

Glen Fisher


Bridgeton, NJ
856-451-2626
countrysteppin@comcast.net
Beginner & Intermediate
Line and Couples


Rosie Multari


Bayville, NJ
Ocean County Area
multari@aol.com
732-269-1640
Beg – Int & Advanced Seniors

Pepper & DJ Jam




Monday – Brick High Scool – Brick, NJ


Brick, NJ
732-477-3403
Pepper@RedHotCountry.com
www.RedHotCountry.com/lessons
Beg/Int/Adv Line and Partner

Bette Silber


Neshanic Station, NJ
Bettedance@aol.com
908-371-1427
Starters – Beginners
& Advanced Beginner Linedance

Frank Garrick




Cranford Nights of Columbus Hall


Kenilworth, NJ
frgarick@comcast.net
908-245-9303
Seniors all levels
Ruth Hardy Rahway
Rahway Senior Center
Wednesday – 3pm
Beginner / Intermediate Line countrydancer5678@comcast.net
732-827-2016
Betty Silber
Flemington, NJ
908-968-0333
Healthquest Health Club
Bettedance@aol.com

Mon 6:30pm – 7:30pm Starters/Newbies
Mon 7:30pm – 9:30pm Beginners
Wed 7:30pm – 9:30pm Intermediate

Matt Thomson
Franklin, NJ (862)258-5108
Monteray Entertainment LLC


monteray.matt@aol.com



Monday 6pm – 10pm
Beginner / Intermediate
www.monterayent.com

 

New Mexico

Jean Loafman


Carlsbad, NM
yoyo@cavemen.net
505-885-5697
Beg & Int & Advanced Seniors

Clarada Hull


Albuquerque, NM
rcraighull@spinn.net
505-884-4891
Beg / Int & Adv Line Dancers

Mickey Powell-Dominguez


Albuquerque, NM
rcraighull@spinn.net
505-884-4891
Beg / Int & Adv Line Dancers
Mary G. Collins


Monday – 1pm – 2:30pm- Aztex Senior Center


Farmington, NM
505-327-2948
Beginner Line Dancing / Seniors

Helen Janacek


Albuquerque, NM
Wednesday – 1:30pm – 3pm – Beginners
Manzano Mesa Center
**************************************
Wed – 3pm – 4:30pm – Low Intermediate
Manzano Mesa Center
**************************************
Saturday – 12:30pm – 2pm – Beginner
Highland Senior Center
2pm – 3:30pm – Reviews
wanderinggypsy@webtv.net
505-294-4408
Beginner / Intermediate Seniors

Wylene Santistevan


505-298-1541
Albuquerque, NM

Friday – 1:30pm – 3m – High Intermediate
Manzano Mesa Center

Georgette Smith


Albuquerque, NM
505-823-4518
GFS551@Yahoo.com

Tuesday – 6pm – 7:30pm – Intermediate
Mesa Verde Community Center
**************************************
Wednesday – 1:30pm – 3pm – Beginner
3pm – 4:30pm Intermediate
Manzano Mesa Center



Bea Smith


Alamogorda, NM
575-491-8614
kc5owl@yahoo.com

Alamogordo Senior Center
Tuesday / Wednesday / Friday
1pm – 2:45pm Advanced/Experienced
Senior Line Dancing

Tamara Sullins
Roswell Adult and Senior Center
Roswell, NM 575-622-3549 tsullins@plateautel.net

Beginner, Intermediate & Advanced
Monday 7pm – 9pm
Wednesday 7pm – 8:30pm

Patty Herrington
Belen, NM
patstaxco@aol.com
505-864-4266

Belen Senior Center
Begginner & Intermediate Line Dancers
Thursday: 8am – 10:30am

New York

Kathy Sharpe-Arrant


Bloomingburg, NY
karrant@hvc.rr.com
(845) 457-9367

Beg/Int/Adv Line
Beg/Int Couples
Wesley Hall Senior Center
Montgomery, NY
Senior Beginners 11am





Joe Spencer


Olean, NY
716-307-1581
joeship1@yahoo.com

Allegany American Legion


Thursday 6pm – 8pm

Lynne Martino
347-693-8300
Wiska51@aol.com
www.lynnesdancecrew.com

Thursdays Seniors
Floral Park Recreation Center
Time: 12pm to 1pm
Thursdays Intermediates
Samuel Field Y – Little Neck, NY
Time: 7pm-9:30pm
Wednesdays Beginners
Windsor Park Community Room
Bayside, NY   Time: 6:30pm-8pm

Lois Jordan


New Windsor, NY
ljordan@hvc.rr.com

Tuesday: 11am – Noon
Montgomery Senior Center
834-457-9367 Beginner/Beginner Plus

Thursday:10am – 11am
Cornwall Senior Center 845-534-3178 Beginner/Beginner Plus

Bob Bonett


Brooklyn, NY


718-743-1053 /

917-676-3401
Dancinwbobb@aol.com


Monday 12:30pm / 1:30pm
Marine Park Seniors
Salt Marsh Nature Center

Tuesday 11am/12pm
The Midwood Senior Center
Bergen Beach Senior Center 1pm/2pm
Wednesday 11am/12pm

Abe Stark Senior Center
St. Mark School – 7pm / 9:30pm
Beginners 7pm-8pm
Intermediate / Advanced 8pm-10pm
Lesson with open dancing
Friday 1pm / 2:30pm
Bay Ridge Senior Center



Susan Kaupelis




Gloversville, NY


suekaup@hotmail.com
Path Senior Center – Path, NY
Broadalbin Hotel – NY
21st Century Fitness – Amsterdam,
Gloversville Moose Lodge, NY

518-883-3125
All Levels & Seniors


Wendy Drumm


Riverhead, NY
Wfldust@aol.com
Beginner

Sue Kaupelis


Gloversville, NY
suekaup@hotmail.com
Web page
518-883-3125
Beginner, Intermediate & Advanced Line and Partners

Cathy Kotowski


Long Island, NY
CatBalou62@aol.com
Beginner, Intermediate & Advanced


Joanne Newell


Albany, NY
Wgonwheel@aol.com
518-756-9269
Beginner/Intermediate Line
plus Seniors

Dennis Madigan


Blasdell, NY
Desperado's-McKinley Park Inn
Thursday & Saturday Nights
Denmdgn@aol.com
Beg to Adv Line
Beg to Adv 2 Step
East & West Coast Swing

Beverly O'Brian




Dry Gulch Dance Hall


Depew, NY
Drygulch3145@aol.com
716-683-5678
Beg /Int Line
Partner/Swing/2-Step

Barbara Prosen


Long Island, NY
BarbBoogie@aol.com
516-623-2734
Beginner/Intermediate

Kathleen Reynolds


Smithtown, NY
DaylilyL@aol.com
631-724-7663
Beginner, Intermediate & Advanced Line & Couples

Fred & Pat – The Sidekicks


Maspeth, NY
sidekickdancers@hotmail.com
718-565-2259
Beg / Int & Advanced Line
www.thesidekicks.8m.com


Bernadette Miranda


Clarence Senior Center
North Buffalo Comm. Center
Clarence, NY
MissKitty5678@aol.com
716-759-2720
Beginner/Intermediate/Seniors

Will Herzog


Rochester, NY
track2@frontiernet.net
585-381-7368
Beginner/Intermediate/Seniors

Sonia & Ric Darquea


Dance R Us
Oyster Bay/Nassau, NY


Senior Citizen Centers for The Town of Oyster Bay, Nassau


Tuesdays 10am -12 & 1-3pm
Thursdays 1-3pm
Fridays 10am-12 & 7-9pm
dancerus@optonline.net
516-935-4750
Beg/Int/ Seniors – Line & Couples

Lois Bichler


Staten Island, NY
LineDanceLois@aol.com
718-356-2208
Beginner/Intermediate

Tom Dailey


Brooklyn, NY
Midget Squadron – Tues Night
United Methodist, Staten Island – Wed Night
American Legion Hall – Thur Night
Tamaqua 1st Fri of each month
cityline@aol.com
718-891-9071
Beg/Int/Advanced Line
Beg/Int Couples

Sherry Palencia


Babylon Masonic Lodge
Lindenhurst Knights of Columbus
N. Babylon, NY
s2step@aol.com
631-242-0686
Beg /Int/Adv Line

Ginny Allen


Cambridge, NY
Mon – 6-7pm Beginners – R Place – Cambridge
Intermediate 7-8pm – R Place – Cambridge
——————————————
Thur – 9:45am – 10:15am New Beginners
Advanced Beginners – 10:20 – 11:10 am
at R Place in Cambridge
——————————————
Mon – Queensbury Senior Center
12:45pm – 1:15pm Intermediate
1:15pm – 2pm Advance Beginners
2pm – 3pm – New Beginners
Queenbury/Glen Falls, NY
Allensinny@aol.com
Beg/Int/Adv and Seniors – Line
Ellen Cheeseman & Marty White
"Stepping E-Z "Dance Team
EGCDANCE@optonline.net
631-924-4895

East Islip Senior Center
Tuesdays 9:30am – 11:00am,
631-224-5396
——————————————
New Village Recreation Center
Thursdays 4pm – 6pm,
631-732-2338
——————————————
Brentwood Senior Center
Fridays 10:00am – 11:30am
631-436-6072
——————————————
Henrietta Acampora Recreation Center
Fridays 1:15pm – 3:15pm  

Pete & June Jepson
631-878-4885
Centereach, NY
www.doublejli.com

Tuesday 1pm-3pm
Senior Class
Masury Ballroom

Tuesday: 7:30pm-10pm
Masury Ballroom – Center Moriches
Beginners – Advanced
Advanced Lessons main ballroom

Thursday 1pm-3pm
Senior Class
Masury Ballroom

Debbie & DJ Stevie Lee


New York 585-967-2627
Cowboy829@msn.com

Monday: 7:30pm-10pm
Knights of Columbus in Webster, NY
Tuesday: 7:30pm-10pm
American Legion, Shortsville, NY
Thursday: 7:30pm-10pm
The Jukebox in Spencerport, NY

Connie Glasier

Fredonia, NY

(716) 673-1438

Mondays & Tuesdays

Dunkirk American Legion Post 62

Beginners 6pm – 7:30pm

Intermediate 7:30pm – 9pm

Wednesdays

Celeron (Jamestown)
Herman Kent Post 777

Beginners 6:15pm – 7:15pm

Intermediate 7:15pm – 8:15pm

Partners 8:15pm – 9:15pm

 

Thursdays

Gowanda Fire Hall

Beginners 6:15pm – 7:30pm

Intermediate 7:30pm -9pm

North Carolina

Jan Gerring & Nancy Glover


Brevard, NC
Transylvania County Parks & Recreation Dept Wednesdays 6pm – 7:30pm
nancyglover10@excite.com
828-891-9204
Beginner Line Dancers

Renita Vega
Palomino Club
Fayetteville, NC
rvega@nc.rr.com
Line Dance all Levels

Susan Webb
Susan's Place
Stantonsburg, NC
Thursday Nights 7pm -10pm
252-238-2684
sweb@simfliex.com
Line Dance all Levels

Wanda & Jim York


Carolina Shores, NC
910-575-6575
jyork08854@yahoo.com

Wednesday 2:30pm – 5pm
Silver Coast Winery
Ocean Isle Beach, NC

Thursday 7pm-10pm
Lakeside Conference Center
Barefoot Landing N Myrtle Beach

Beg & Int Line & Couples
www.CountryLineDancing.com

Linda Long


704-938-1420


Les Myers Park
Concord, NC
paint1dance2@ctc.net
Monday 6pm – 7pm
Thursday 6pm – 7pm
Beginner & Advanced
Brenda Smith
Shooters
Durham, NC
Friday 8pm -10pm
336-364-8133
BDSmith@direcway.com
Line Dance all Levels

Ann Myers


Concord, NC
wmyers@webtv.net
252-830-3680
Intermediate/Advanced


Jimmy Speight




Zebulon, NC


Tuesday – Lions Club 6:30pm – 8pm Beginners
Thursday 6:30 – 7:30 Beginners
Intermediate &:30pm – 8pm


Goldsboro, NC


jpspeight@aol.com
919-735-4160
All levels of line dance
Bonnie Mathews


Legacy Dance Studio

–

608 N Duke St


Durham, NC
Phone: 919-680-4363
E-mail: linedancequeen@nc.rr.com
Monday – 6:30-7:30pm Beginners
Monday – 7:30-9:30pm Intermediate
Beginner/Intermediate
Darlene Ritchie
Kannapolis, NC
mdritchie@ctc.net

Wednesday
Kannapolis VFW
6pm Beginner Line Dance
7pm High Beginner / Intermediate

Patty Howells
Franklin, N.C.  (Community Bldg.)
Monday 7-9pm
Beginner & Intermediate
Wednesday. 10-Noon
Beginner & Intermediate
828-369-2492
skipandpatty@webtv.net

Yolanda Osborn


704-846-4654
Levine Senior Center
Matthews, NC
Monday 1pm Beginners
Wednesday 1pm Intermediate
yoron1@hotmail.com

Jeanne Hardee


(252) 746-6679
Ayden, NC
Ayden Arts & Recreation Center
Tues – 7pm – 9:30pm
Beginners / Intermediate
JHHardee40@aol.com

Mea Alderman-Overby


(336) 635-1093
Wentworth, NC
Rockingham Community College
Mondays & Thursdays
Mea_Alderman_Overby@triad.rr.com


Joyce L Beard


828-328-4643
jbeardjnandco@earthlink.net

Or Nancy Hefner
828-632-9305 JNLINEDANCERS@PEOPLEPC.COM

Westmont Senior Building
Tuesday 6:30pm-8pm Intermediate      Thursday 6pm-7:30pm Beginner
JN & CO Line Dancers

North Dakota

Ohio

Edie Driskill


Worthington, OH emdriskill@columbus.rr.com
614-214-7199

Sunday – Kenny Centre Mall
Columbus 4pm – 7pm
Beginner/Intermediate Line

Monday – Kenny Centre Mall
Columbus 6pm – 7pm
Ballroom, Latin & Swing Lines

Thursday – Kenny Centre Mall
Columbus  1pm – 2:30pm

Friday –  Dublin Community Center
Dublin 1pm – 2:30pm

Steve Dashner


Marysville, OH
dakotasranch@juno.com
937-246-6990
Beginner, Intermediate
& Advanced Line & Partner

Charlotte Frazier
Harmony Hall
Hebron, OH
ckovitya@greenapple.com
Mon & Wed 7:30pm
740-366-3360
Beg / Int / Adv Line & Couples

Linda & Ron Hobbs


Kettering, Dayton, OH
danceexpress@woh.rr.com
937-832-7072
Mon – 7:30-8:30pm The Charles Lathrem Center in Kettering (Beg & Senior)
Thur – 7-10pm JR's Place in Dayton (Partners)
Sat – 7-11pm JR's Place in Dayton (Partners)
Beg & Intermediate Line, Couples, Partners & Seniors

Linda Kalinowki


Toledo, OH
419-726-4456
Beginner

Charlie & Phyllis Kent




Alliance Senior Center


Alliance, OH
330-823-3891
Beginner


Eric Termuhlen


Cincinnati, OH
jblazer@fuse.net
513-652-9146
Beg/Intermediate/Advanced

Shirley Hawkins


Elida, OH
419-641-6223
Sunday – Cairo United Methodist Church – 6pm – 9pm
Beginner & High Beginner

Linda Woods


Springboro, OH
VW10LW2@aol.com
513-748-8894
Beginner


Elmer & Barbara Barlage


Dayton, OH


Millridge Community Center – Monday




Trotwood Community Center – Tuesday




Millridge Community Center – Tuesday


Hithergreen Senior Center – Wednesday
Vandalia Senior Center – Wednesday
Lathrem Senior Center – Wednesday


Lathrem Senior Center – Thursday


BE2STEPPER@aol.com
Begin & Intermediate Seniors

Mary Harwood
Cleveland, OH
440-353-9710
Mon – Strongsville Rec Center 9pm
Tue – FOP #25 Westlake, OH
Beginners 7pm – 8pm / Intermediate 9pm
Wed – Westlake Rec Dept 7pm – 8pm BEG
Thur – Lorain County Com College 7pm – 8:50
Sun – Olmsted Falls Rec Center
Beg/Seniors 6pm-7pm / Int 7pm -8pm
idodance@aol.com
Beginner / Intemediate
Diane & Jeff Hissong
Xenia, OH
937-219-4203
Thurs – Sinclair Community College
Strictly Seniors – Beginners – 1pm – 2pm
Thurs – Charles Lathram Senior Center
Intermediate Dancers 2pm – 3pm


Thurs

– JR's Dance Hall – 7pm – 10pm
Sat – 7pm – 11pm with lessons at 7pm
hheaven@earthlink.net
Beginner / Intemediate

Jeannine Zwiebel


Shawnee Alliance Church, 4455 Shawnee Rd


Lima, OH
419-657-6515
Line Dance set to Gospel music (gospel-cize)
Fri – 9-10:45am
Beginner
David Wissel
Lebanon, Cincinnati, Dayton,, OH
513-932-3349
Tues – 7pm (Beg Line) / 8pm (Int Line) Countryside YMCA
Wed – 7pm (Swing/Latin) – Coppacabanas
Thurs – 7pm (Senior Partner)
Kettering Rec Ctr
Fri – 7pm (Line) / 8pm (Beg Line)
Countryside YMCA
Sat – 2pm (ballroom) – Univ of Cinci
dwissel@adelphia.net
Beginner/Intermediate
Couple/Seniors

Sharen McDivitt


Lake County, OH
440-209-0652
Sharen414@aol.com

Wickliffe Senior Center
Mon: 10am – 11am
Mentor Senior Center
Mon: 4pm- pm5; 6:30pm (Polly)
7:30pm (Sharen)
Mentor Senior Center
Wednesday 6pm – 7:30pm
Willowick Senior Center
Thursday  10am – 11:30am
Eastlake Senior Center
Thursday: 1pm – 2pm
Monday @ 6:30pm is beginners
7:30pm classes are intermediate/advanced
The rest are low intermediate/intermediate


Lori Puterbaugh


Sidney, OH
937-497-5116
LPuterbaugh@dorothylove.oprs.org

Amos Community Center in the
Dorothy Love Retirement Comm
Tuesdays & Fridays 10am
Beginner & Intermediate Line Dance

Barbara Shoda




Willoughby, OH


shoda.b@att.net

Tuesday Morning
Willoughby Senior Center
10am Intermediate Line Dance
11:30am Beginner Line Dance

Pam Dailey
London, OH
1-800-852 2010


Wednesday 6:30pm
7:30pm and 8:30pm Classes
Partner and Couples

Daisy Masminster
Cincinnati, OH
daisyracedance@zoomtown.com

Wednesday 7pm
Jim & Jack's On The River
on River Road in Cincinnati
Beginner to Intermediate


Tuesday:

Columbus OH 43229

12:50pm-1:50pm (Improver)

2pm-3:45pm

(Intermediate)

Dublin OH 43017

Oklahoma

Doug Carlton


Oklahoma City, OK
FURRFACE1@aol.com
Beginner & Intermediate

Helen Watson


Tulsa, OK
htwatson@prodigy.com
918-627-6637
Beg & Int Seniors


Denny & Delma Rhett


Bartlesville, OK
BOK Senior Advantage Center
Tues 7pm – 9pm
Ok2dance@valornet.com
918-536-3665
Beg & Int Seniors

Candra Deese


Woodward, OK
580-254-0010
candra@cebridge.net
Woodward Senior Center
Mon & Wed 10am – 11am
Beginners to Intermediate
Must be 55 years and up to join

Oregon

Jonni Jordan


Riddle, OR
Riddle Community Center
541-863-7310
jonnimom@yahoo.com
Beginner & Intermediate Seniors


Ann Fore


West Linn, OR
503-309-6803
annfore@yahoo.com
Beginner & Senior


Connie Shell


Corvallis, OR
steppinoutcs@comcast.net
541-752-3123
Beginner & Intermediate



Patricia Wilson


Roseburg, OR
phzitelli@rosenet.net
541-459-3153

Buckeroo Barn
Mon & Thurs am – Intermediate
Monday 6-7:30pm Newbie's

Phyllis Hill

Eugene, OR

541-870-2411

Campbell Senior Center
155 High Street
541-682-5318

Friday  11am – 12pm
Level – Ultra Beginner

Monday 12:30pm – 2pm
Level -Beginner

Thursday 1pm – 2:30pm
Level – Intermediate

River Road Parks and Recreation
1400 Lake Drive
541-688-4052

Wednesday 1pm – 2pm
Level – Ultra Beginner

Doris Lilly
Bend, OR
Bend Senior Center
Monday – 9:30am Intermediate
Thursday – 8:45am Beginners
Thursday Evening- 6:30pm Beginners
Friday – 6:30pm Social Dance
541-388-1133
dlilly@bendcable.com
Beginner & Senior
Patricia Wheeler
Florence, OR
541-999-0797
e-mail: Pawheeler

Tuesday 1:30pm – 3pm
Florence Senior Center
Beginners

Wednesday
LCC Campus 1pm – 2pm
People with Disability

Wednesday
Elks Lodge #1858 3pm – 6pm
3pm – 4pm Beginners

Sunday @ Elks Club
Members Only 3:30pm – 5pm

Peggy L.Barnett


Bend, OR


Bend Senior Center
Monday – 8:45am – 9:45am Beg/Intermediate
Monday – 10am – 11am Intermediate


541-383-3699


plbarnett@bendcable.com


Active Adults / Seniors

Michelle Dodge
Hubbard, OR (503) 317-1637
michelledodge@msn.com
http://www.nwcountrydancer.com

Beginner & Intermediate Line
Bushwhackers in Tualatin, OR

Pennsylvania

Lars & Lori Anderson


Prospect Park, PA
cityscountryk@rcn.com
610-583-3549
Beginner & Intermediate


Dottie & Steve Cirko


New Tripoli, PA (

Barnsville, PA

)
dancnmach@enter.net


610-298-2117


Beg/Int Line & Couples
Mon – Shoemakersville Fire Co
Wed – Wild Creek Inn, Lehighton
Thu – Vigilant Fire Co, Slatington
Fri – Lakeside Ballroom


Calamity Jane


Erie, PA
Calamity98@hotmail.com
814-838-9101
Intermediate

Barbara & David Monroe

Blakeslee, PA

Phone: 570-332-4967

Website:  www.poconocowboy.com
Country Line Dance / Partners

Tuesdays – 8pm-9pm
Dupont Volunteer Hose Co
Line & partner lessons

Wednesdays – 7pm-9pm
Jad's Place (in the Quality Inn)
Pittston, PA
Beginner / Intermediate Line Dance

Friday 7:30pm-8:30pm
Lakeside Ballroom
Route 54 (near Hometown)
Barnesville, PA
Line / Partner

West Newton, PA
724-244-8656


Tuesday 7pm – 10:30pm 
Grapeville Firehall

Wednesday 7pm – 10pm

Crystal Ballroom

 

Ginny Crawford
Pittsburgh, PA
412-364-5723
jergin727@comcast.net

Thursday 7pm – 8:45pm
Ross Township Community Center Gym
Beginners to Intermediate

Ed Maxwell


Greater Harrisburg area
dancewithed@comcast.net
717-774-7150
Beg, Int & Adv
Couple, Partner & Line

Carol Moore


Bradford, PA
Richie Hall Wed 7pm Beginners
CycloneCarol58@hotmail.com
814-465-3169
Intermediate & Advanced

Erin Hoxie


Lancaster, PA
ehoxie@supernet.com

Monday – Homestead Village, Lancaster
Tuesday – CV Community Center, Leola

Wednesday – Susq Senior Center, York PA Seniors & CV Community Center
(Adult Beginner & Intermediate Class)
Thursday – Rutherford Community Center, Harrisburg Pa (Seniors)


Dave Kim


Colmar, PA
marlindj@comcast.net
Toll free (866) 997-7688
www.marlindj.com

Mondays Country Dance Night
Polish Association Ballroom 9150 Academy Road Philadelphia, Pa 19114
Music at 6:30 Lessons 7:30-8:30
Dance Till 10:30 / $8 per person

Tuesdays Country Dance Night
North Penn Elks 2737
Trewigtown Road Colmar, Pa.18915
Beginner Lesson 7:10
Regular Lesson 7:30-8:30
Dance Till 11:00 /$8 per person

Wednesdays Swing Dance Night
North Penn Elks Trewigtown Road
Colmar, Pa.
Lessons 7:00-8:30
Open dance till 11:00
$8 per person

Thursdays Country Line Dance ClassesIntermediate Classes Level 2
Nov 4, 18, Dec 2,9 – 7-9pm
North Wales Elementary School
Lansdale, PA – To register (215) 368-0400

Fridays Country Dance Night
North Penn Elks Trewigtown Road
Colmar, PA
Beginner lessons 7:30-8:30
Dance Till 11:30 / $8 per person


Bonnie Borelli

bonniesscuffin@hotmail.com


724-746-1222
Labor Temple Club
Canonsburg, PA
Beginners @ 6pm
Intermediate @ 7:30pm
Wednesday $6.00

Peggy Sue


Easton, PA
peggysue3335@aol.com
610-760-1917
geocities.com/denimnlace5678
Tuesday evenings:
Bushkill Park Roller Rink – Easton

Line and Partner 7pm-8pm
Beg / Int / Seniors Welcome
Donation $6 / $5 Seniors
Smoke Free / Soda, Water Available

Thursday evenings:
Vigilant Fire Hall – Slatington

Country line and partner lessons

Beg / Int / Seniors Welsome


2nd Saturday of each month:
Dance @ Vigilant Fire Hall – Slatington

Doors open at 7, dance from 7:30 to 11

Donation $6 pp  Smoke free

Rhode Island

Dan Albro




Mishnock Barn


West Greenwich, RI
albro@loa.com
401-397-9483
Beg / Int & Advanced


Joe Shutt


Cranston, RI
Reddy5678@aol.com
401-785-1062
Beg / Int & Advanced


Karen Lea


Cumberland, RI
401-726-6412
penpal116@cox.net

Lincoln Senior Center
Wednesday – Beginner 12pm
Wednesday – Intermediate 1pm
Cumberland Senior Center
Thursday – Beginner 12pm
Thursday – Intermediate 1pm


South Carolina

Donna Erdman


N. Augusta, SC
gerdman1@home.com
803-278-6251
Beginner & Intermediate

Norma Jean Fuller


Easley, SC
NFMSR@aol.com
864-855-2767
Beg & Int Line,
Partners & Seniors

Terrell (Terry) Pournelle


Walterboro, SC
S.C. NTA Director
papo@lowcountry.com
843-538-2471
Seniors / Beg / Int Line


Ann Segars


Camden, SC
asegars@charter.net
803-432-5630
Beg/ Int Line / Seniors & Partners

Julia Ann Kennedy


Hamptons, SC
ldbbum@hargray.com
803-632-3194 /

843-341-2804
Seniors, Beg & Int Line

Kathy Dukes
Orangeburg, SC
Jammers Skating Rink
803-531-4202
Beginner & Intermediate

Rene Painter


Mt Pleasant, SC
lanejam1@hotmail.com
843-388-0304
Mon: Isle of Palms
Tues: Creek Club
Beg/ Int Line / Seniors & Partners

Carolyn Robinson


Mt Pleasant, SC
843-607-5048
flrkilr@bellsouth.net
www.love2dance.ws
Wednesday 7-8:30pm
Dunes West Club – Mt Pleasant
$40 per 6 Week Session
Thursday 7-8:30pm
Kickin' Horse Saloon $6 per person

Judy Falconer
Surfside Beach , SC
Civic Center
843-215-6218
carolina54@yahoo.com
Mon – 5:30 New Beg $3
Mon – 7-9 Beg/Hi Beg $3
Beginner


Barbara G Steele


Greenville, SC
Senior Action Center
www.senioraction.org
864-467-3660 / 864-467-4326
Seniors
Patricia 'Pat' Margarita
Enoree, South Carolina
864-969-3004
instructor5678@gmail.com

Woodruff Liesure Center
Monday 6:30pm / 8pm
Beginner Partner & Circle

Tues/Thurs: 10am – 11:30am
Beginner / Intermeidate Line

Abby McCrary

Garden City, SC 29576

843-450-4299

Monday

1:30pm – 4pm

Beginner/Low Intermediate

Thursday

1:30pm – 4pm
High Beginner/Low Intermediate

South Strand Recreation Center

843-450-4299 or 843-915-5333

 

South Dakota

Debbie Ellerton


Rapid City, SD
dellerton@rap.midco.net
605-348-0863
Beginner & Intermediate Line


Dance Event April 29 – 30, 2005




For Couples and Linedancers




Tennessee

Jan Anderson


Madisonville, TN
hjmark6@yahoo.com


423-519-9617


Modern Health Club
Wednesday 4:30pm-6:30pm
Beginner to Intermediate




George Sansom


Dyersburg, TN
lazygr63830@yahoo.com
573-333-0024
2nd & 4th Tuesday of each month
Bootscooters – 1901 St John Ave (behind Juke Box Cafe)
Beginner & Intermediate Line and Partner Dancers

Trent Keith


Millington, TN
TKKeith@aol.com


Wed 9-11:30AM Frayser-Raleigh Center


901-837-7765
Beg & Intermediate Seniors
Stasia LeFrancois
Fairfield Glade , TN
(931)484-8643
stasial@usa.net
Thur 6:45pm – The Recreation Center
Beginner / Intermediate Seniors

Phyllis Petty


Murfreesboro, TN
615-890-6960
VINEDANCEQN@YAHOO.COM
Mon 9:30-11am Parks & Recreation Center – Beg
Tues 10:45-1:30pm YMCA – Beg/Exp
Wed

9:30-11am

Senior Center – Beg/Exp
6-8pm Parks & Recreation Center – Beg/Exp
Sat 1-3pm Parks & Recreation Center – Beg/Ex

Jane Lane


Jefferson City, TN jelane42@yahoo.com
Class: Tues/Thurs
9:30am-12pm
Beginner / High Beginner/ Int
Jefferson City Community Center

Phyllis Paulantonio


Johnson City, TN
cuerus@yahoo.com
Wed 1:30-3pm Johnson City
Senior Center – Beginners
Wed 3-4pm Johnson City Senior Center – Int
Also 2 Square Dance Clubs – Dance Cuer
423-282-5415
Beg & Intermediate Seniors

Laura Austin


Memphis, TN
Tues Nights – Asbury United Methodist Church
Thur Afternoons – Pickering Community
Center in Germantown
(901) 744-0792
Beginner / Intermediate Seniors


Linda S. Roberts


Bristol, VA
276-669-0838
Email: lnnro@bvu.net

Slater Senior Center Bristol, TN
Monday / Wednesday
and Friday @ 10:45am

 

Texas

Frances Halvorson


Richardson, TX
flh@dhc.net
972-231-9344
Int / Adv Linedance

Jo Barton


Austin, TX
joleent@austin.rr.com
806-352-0107
Intermediate/Advanced Line

Billie Gibbins


Abiliene, TX
biljo@camalott.com
Int & Advanced Seniors

Richard Rogers
Garland, TX
rprogers5@aol.com

Beginners / Intermediate Seniors
Richland Community College
Sachse Senior Center
Humana Guidance Center
Garland Senior Center

Gloria Henderson


San Angelo, TX
Tues Santa Fe Crossing 10AM
Folk Dancing @ 1PM
Wed. Santa Fe Crossing 10AM
GHende3335@aol.com
Int /Adv Senior Line Dance

Joan & Arnie Hibler


Whitney, TX

(35 Miles N. Waco)


West Shore Civic Center
Laguna Park, TX
Mon & Thurs 6:30pm-8:30pm
joanh@digiTex.net
254-694-6208
Beg/Int/Adv & Seniors


Marjie Parrigin


Hewitt, TX
vparrigin@aol.com
254-666-5210
Beg/Int/Advanced Seniors

Mona Puente


Fort Worth, TX
monapuente@sbcglobal.net


Wed/Thur Pantego Church 7:30pm




Fri – 5:30pm University TX Arlington




Sat – 12:30pm

University – Arlington


Beg / Int / Adv

Pasty Woodroff


Houston, TX
Woodybj@worldnet.att.net
Intermediate & Advanced

Rosalee Musgrave


Lubbock, TX
806-799-4067


rosaleemusgrave@suddenlink.net

HEALTHPOINT CENTER
Mon. 10:00-11:45 Int.
Wed. 10:00-11:45 Adv
Wed. 1:00 – 3:00 Beg
Thur. 6:00-8:00 P.M. Beg

New @ the UMC
Vocabulary for Beginning Intermediate/Advance


Lou Ann Smith
HEALTHPOINT ACTIVITY CENTER
806-791-0470
Lubbock, TX 79413


Monday

1pm – 2:10pm


Beginner / Low Intermediate


Wednesday

 

10:40am – 11:55am


Advanced Line Dance
louasmith@sbcglobal.net

Judy Sides


SW Dallas, TX
exersides@gmail.com

Monday / Wednesday
White Rock YMCA
Dallas, TX  214-328-3845
8am – 9am Starters / High Beginner

Monday 10:30am / 12 Noon
Richardson Senior Center


Monday 1pm – 2pm
Folsom Fitness Center
Methodist Hospital of Dallas
Starter – Beginner 214-947-1890

Tuesday 7pm – 8:30pm
Franklin Park at Hometown
N Richland Hills, TX (817-503-0702)
Beginner / High Beginner




Wednesday 1pm – 3pm
Duncanville Senior Cente
972-780-5073 / Intermediate

Thursday 9:45am – 11am
Duncanville Senior Cente
Starter / Beginner

 

Jessie (Frankie) Arbuckle


Houston, TX
jrbkl@ev1.net
Beginner / Intermediate

Vina L. Williamson


Granbury, TX
lady4w@charter.net
Beginner / Seniors

Julia Robertson


Weatherford, TX
j2200@msn.com
Beg / Int & Adv

Theresa Kindle


Richardson, TX
tekindle@netzero.net
Beg / Int & Adv

Sandy Bushover


San Antonio, TX
sandy5678@earthlink.net
210-481-1247
Beg / Int & Adv

Julie Campbell


San Antonio, TX
210-492-4692
Juliecam@satx.rr.com
Beg / Int / Adv

Barbara Alb

right


Hurst, TX (Dallas-Ft Worth area)
Barbara

's Dance Studi

o
817-268-2058
barbfashions@aol.com
Beg, Int & Competition for UCWDC

Lynniece Hill


Lubbock, TX
Senior Circle Line Dancing


Mon – 9:30am – 11am




Tues – 9:30am – 11am




Thur – 9:30am – 11am


e-mail: jrhill3@cox.net
806-441-8236
Beg / Int & Adv Seniors

Jenette David


Abiliene, TX – Dance For Fun
Rose Park Senior Center
Thursday 11:00am- 12:00pm
Friday 2: 30pm – 4:00pm
dljdavid@direcway.com
Beginners / Seniors

Marietta Stone


Houston, TX


Eldride Senior Center – Sugarland, TX


Tuesday 3pm – 5pm
mariettast@houston.rr.com
Beginners / Seniors
Joleen Tucker
Austin, TX – Senior Center
joleent@ev1.net
1-512-292-4151
Beg / Int


Joan Cox


Austin, TX


South Austin Senior Activity Center


Monday 1pm – 3pm
64jcox@austin.rr.com
Beginner Seniors
Intermediate Seniors


5920 FM 2920 – Spring, TX

Beginner Level (no charge)
Thursday 1:30pm – 2:30pm

 

Kenneth Bailey


Macedonia Senior Center
Texarkana, Texas

Wednesday 11:30pm – 1:30pm
Friday 9am – 11am

KBailey252@aol.com
Beginners / Seniors

Martha Blue
HEALTHPOINT
806-741-3033
HEALTHPOINT
Lubbock, TX
Wed 1 pm – 2 pm
Line Dance Basic Steps/Vocabulary
Thur 6 pm – 6:45 pm
Line Dance Basic Steps/Vocabulary
Elsa Campbell
Houston, TX
(713) 270-0541
Home Studio
Tuesdays 6pm – 8pm
Beg. and Beg/Inter
Adults but can teach children
elsacampbell@sbcglobal.net

Martha Smith


Paws & Taws Convention Center
Rockport, TX
Mon/Wed/Fri 9am – 10am Beginner
10am – 11am Int to Adv
361-729-7040
markitz@aol.com
Beginner / Intermediate and
Advanced Line Dancers

Mary Reynolds


Paws & Taws Convention Center Rockport, TX
Mon/Wed/Fri 9am – 10am Beginner
10am – 11am Int to Adv
361-729-7040
maryr@pyramid3.net
Beginner / Intermediate and
Advanced Line Dancers
Jeanie Hall
Denton, TX
(940) 808-0990
dancnjeanie@aol.com

Fridays – 6:30 – 8:30pm
North Lakes Recreation Center
Wednesdays – 6:30 – 8:30pm
Martin Luther King Rec Center

Al McGee
Dallas, TX

214 500-5950

Heritage Ranch Golf & Country Club

Tuesday 7pm – 8pm Beginner Line
8pm – 9pm Intermediate Line

Utah

Jo Ann Cobb


South Jordan, UT
jcopal1930@aol.com
801-280-1945
Beginner & Intermediate Seniors


Johnny Rauzi


Clinton, UT
jrauzi@aol.com
801-825-1546
Beg / Int & Advanced


Vermont

Sue Barnett


Westminster, VT
sb162pro@sover.net
802-463-9081
Beginner, Intermediate and Advanced Linedancers


Sally Blair


Richmond, VT 05477
Tues / Thurs 6:30 -9:30pm
802-434-2891
wsblairdj@gmavt.net
Beg, Adv, Partners & Couples


Sam Restino


Bennington, VT
cdudette@bcn.net
802-447-1387
Beginner, Intermediate & Advanced Line & Partner

Dancin' Dean


Northwestern, VT
dancdean@twcny.rr.com
www.dancindean.com
518-297-3202
Beginner, Intermediate and Advanced Linedancers

Virginia

Jim & Joan Dodd


Virginia Beach, VA
JDOUBLEDEES@netscape.net
757-228-3444
Beginners – Wed. 7:30pm
Intermediates – Thurs. 7:30pm
Couples on both nights @ 7pm
Beg / Int / Couples

Lee Bowman


Richmond, VA
Silver Spurs Linedancers
Wednesdays – 10am -11am
Providence United Methodist Church
silverspurs_linedancers@yahoo.com
804-276-3095
Beginner & Intermediate Line

Linda S. Roberts


Bristol, VA
276-669-0838
Email: lnnro@bvu.net

Slater Senior Center Bristol, TN
Monday / Wednesday
and Friday @ 10:45am

E Scott


Fairfax County, VA
EScott@ULLICO.com
Beginner & Senior

Lin Henderson


Norfolk, VA
757-498-9804
Beginner & Intermediate
Jackie & Brian Lincoln


757-859-2051




Virginia Beach, Virginia

Monday Evenings
Advanced Line Dancing
Tuesday Evenings
Intermediate Line Dancing
Wednesday Evenings Beginner/Senior Line Dancing
okeefejl@charter.net
jackieandbrianlinedancing.com


Washington

Harvey Cameron


Quincy, WA
harvey@nwi.net
Intermediate & Advanced


Jo Miller


Richland, WA
josdancin@alol.com
509-375-1498
Starters / Beginners / Int / Adv
All Levels of dance for all ages.


Robbin Murphy


Seattle, WA
Robbin's Nest
robbinsnest932@comcast.net
Tues. 7pm Int / Adv
Wed. 6:30 Beg / Int



Joe & Margie Mraz








Dave Serfling




Rockin' Horse Dance Barn


Renton, WA
dave@learn2dance4fun.com
425-255-9211
Beg/Intermediate & Seniors

Helen Staveley


Port Orchard, WA
mstaveley@wa.freei.net
253-857-8778
Beg & Int Seniors
Steve Hart


Dodge City Bar & Grill


Vancouver, WA
stevefromdodge@yahoo.com


www.geocities.com/stevefromdodge


Beg/Int/Adv

Jeanne Archer
Shelton Senior Center
Tues & Thurs 9am – 11am
Shelton, WA
grapeftpop@aol.com
360-426-8173
Beg & Int Seniors

Spencer Howard
Kirkland, WA
spencer@ResilientSpirit.com
www.ResilientSpirit.com –

Website




425-803-0256

Monday 11:45am
North Bellevue
Community & Senior Center      Thursday 10am
Issaquah Valley Senior Center 

Friday 11am
North Bellevue
Community & Senior Center 

Beg & Int Seniors

Paul and Linda Reese


Seattle, WA


Tues Morning – Hiawatha Community Center/West Seattle
Thurs Morning – West Seattle Senior Center
Fri Morning – Jefferson Community Center/Seattle
Jayla McGill
Seattle, WA 98103
206-386-9106
Jayla.Mcgill@seattle.gov

Tuesdays, 9:00-10:00 am,
Ballard Community Center (Gym)
6020 – 28th NW
Seattle, WA 98107

Wednesdays, 8:45-9:45 am
Ravenna-Eckstein Community Center (Gym)
6535 Ravenna Ave NE
Seattle, WA 98115

Fridays, 9:30-10:30 am
Magnuson Community Center
Building 406, Viewridge Room
6344 NE 74th
Seattle, WA 98115

Carma Smith


360-681-2826
scsmith@olypen.com

Sequim Elks Lodge
Thursday 9am-10am
Beginner/Intermediate

Thursday 10:30am-11:30am
Intermediate/Advanced

West Virginia

Dave & JJ Jarrett




First Presbyterian Church


Charleston, WV
djarrett7@juno.com
304-344-8810
Intermediate

Lotus Bailes


Beckley, WV
lotus48@frontier.com
304-253-7807
Beginner

Wisconsin

Chris Cohen


"Ants On A Log"


Middle Branch Saloon


Kenosha, WI
christopherecohen@hotmail.com
262-638-0949
Beginner Line Dance

Jan Davie




American Legion


Milwaukee, WI
jdavie@wi.rr.com
414-423-5667
Beginner Line & Partner

Pollie Evans


Menomonie, WI
evanspb@wwt.net
Menomonie Senior Center
Tues – 2pm-3pm
Menomonie Moose Club 720
Tuesday 7pm-9pm
715-772-4510
Beg /Int / Adv Line Dance


Bob & Pat Pitrof




The Amerahn Hall


Kewaskum, WI
bandp@execpc.com
262-334-2262
Beg/Int Line Line & Partner

Denny Baer




Paluka's Pub/ Van Veghal's Auction House


De Pere, WI
denny@dancinbaer.com
www.dancinbaer.com
920-336-7436
Beg & Intermediate Line

Russ, Joyce & Marilu Hartwig


Spurz – Beaver Dam, WI
Mayville Park Pavilion – Mayville
rghart@ameritech.net
920-485-4196
Beg /Int Line & Partner
Mike Seurer
Fon du Lac Senior Center
Beg & Intermediate Level Thursdays 6-7:30pm
Fon du Lac, WI
seurer@peoplepc.com
920-907-1214
Beg/Int Line Line Dances


Jim Cone


Milwaukee, WI
262-391-4875
tenagliaa@netzero.net

Sundays 1-3pm
United Seniors Bingo Hall
Milwaukee, WI

Wednesdays 6:30-9pm
Paulo's Pizza & Banquet Halls
Milwaukee, WI

Wyoming
Alberta

Arlene MacSwain




High River, Alberta


403-601-4505
macswain@shaw.ca

Beginners & Intermediate

 

British 

Columbia

Jenifer

Wolf

Surrey / British

Columbia

604-583-9889

http:www.geocities.com/vibration_2000

Killarney Community

Centre

Vancouver, BC

Mon: 9am – 12:00pm

Seniors Line Dancing

Beg – Int – Adv

Surrey School Board

Surrey, BC

Mon: 6:30pm – 8:30pm

All Levels Line Dancing

Confederation Seniors

Centre

Burnaby, BC

Tues: 9am – 12:00pm

Active Adults / Seniors

Langley School Board

Langley, BC

Tues: 7pm – 9pm

All Levels Line Dancing

West End Community

Centre

Downtown Vancouver, BC

Wed: 10:15am – 11:45am

Seniors Line Dancing

Beginner Plus / Int

Surrey School Board

Surrey, BC

Wed: 6:30pm – 8:30pm

Champlain Community

Centre

Vancouver, BC

Thurs: 10am – 12:00pm

Seniors line dancing

Vancouver School Board

Vancouver, BC

Thurs: 6:15pm – 9:45pm

West Coast Swing & Jive

and Line Dancing

Coal Harbour Comm

Centre

Downtown Vancouver, BC

Fri: 10am – 11:30am

Seniors Line Dancing

Killarney Community

Centre

Vancouver, BC

Fri: 6:30pm – 9:30pm

Line Dancing all Levels

Irene Groundwater

Vancouver, British Columbia

Kerrisdale Community Seniors Centre Mon 10:15AM – 11:30     Friday   10:15 AM – 11:30 AM

South Granville Seniors Centre   Monday 1:00PM – 3:00 PM

Brock House Society         Thursday 9:15 AM – 10:15 AM

Shannon Oaks

Retirement Home

Thursday 2pm/ 3pm

South View Terrace

Retirement Home

Thursday 3:30pm/4:30pm

Joe & Cindy Archer

Victoria – 250-598-5461

http://members.shaw.ca/joearcher/

Gordon Head Rec Center

Labrador

New 

Brunswick

 

 

Newfoundland

Northwest Territories

Nova 

Scotia

James Church

Amherst, Nova Scotia

Amherst YMCA

Friday: 11am – Noon

Nunavut

 

Ontario

Bertha-Rose

Park

Inwood – Ontario

Christ Anglican Church,

in Petrolia

Tues 10am – 12 Noon

All levels, Beg & Seniors

Heather

Frye

Tecumseh, ONT

Riverside Arena

6755 Wyandotte St.E.

Windsor, Ontario

Mon: 6:30pm – 9pm

6:30 to 7:30 Beginner

7:30 to 9:00 Intermediate

Diane

MacBride

Mon: Optimist Hall

Dunnville ONT 12pm – 2pm

The 55 Plus Group

Starters / Beginners

Wed: 7pm Dunnville Legion

Beginners / Intermediate

Jill

Baker & Debby Wilcox

Aurora, Ontario Canada

(905) 713-9851

Newmarket Seniors'

Meeting Place – 474 Davis DR

Newmarket, Ontario Canada

Mon – Beg/Int 7pm – 9:30pm

Wed – Int 7pm – 8:30pm

Anita McNab

Dowling, Ontario

(705)

855-7706

Howard Armstrong Rec Centre in Hanmer, ONT

Mon 11am – Noon

Tues 7:30pm – 9:30pm

Beginners, Beginners+

Wed 11:00am – 12:00

Fri 11:30am – 1:30pm (Intermediate)

NEW – 2 Hour Intermediate

Fri 7:00pm – 9:00pm

High Intermediate/Advanced

Thur @ Colonial Inn, Coniston

7:00pm – 9:00pm

50+ Advanced Beginner

Lynn Warden

905-374-6129

St. Andrew's Church Gym

Niagara Falls, ONT

Prince 

Edward Island

 

Quebec

Danny LeClerc

Blainville, Québec

514-945-4439

Laval, Blainville, Montreal

Beg / Pros and Competitors

Coaching in Line, Partner & Couples

Saskatchewan